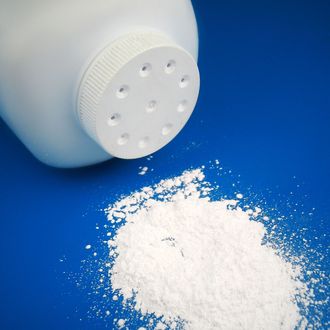 This year's asbestos?
Photo: Grata Victoria/Getty Images
Trigger warning for the chafed: A Missouri state jury has ordered talcum-powder-makers Johnson & Johnson to pay $72 million to the family of an ovarian-cancer victim. Jacqueline Fox died in October, at 62, after using J&J powder products for 35 years. The verdict, the first of its kind, may indicate of more to come; there are 1,200 such cases pending in Missouri and New Jersey, centering on the argument that manufacturers of talcum powder have failed to disclose a risk.
Jury verdict aside, the actual evidence of that risk is questionable. Although talc — the soft mineral that's ground up to make baby powder and cosmetics — can contain asbestos, the form that's used in those products does not. The American Cancer Society says that most studies have failed to prove a connection between talcum powder and tumor growth, noting that a few do show a slightly elevated risk. (A number of those studies have focused on ovarian cancer, because powder used around the genitals can be taken up into the vagina and reach the ovaries; there have been reports of talc particles found embedded in ovarian tumors.) The more activist Cancer Prevention Coalition has called for J&J to pull its talc-based products off the market, citing corn starch as a viable alternative, or at least put a warning label on the packaging. A J&J spokesperson told Reuters that "we sympathize with the plaintiff's family but firmly believe the safety of cosmetic talc is supported by decades of scientific evidence."
Two years ago, a South Dakota jury found that the company had been negligent in not warning a sick defendant, Deane Berg, of the link between talcum powder and ovarian cancer, although the court awarded no damages in that case. Fox's attorney said several other cases against J&J will go to trial later this year.