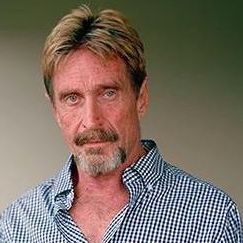 The eyes of the world are on a single iPhone this week. It belonged to one of the San Bernardino shooters, and the FBI would love to get its hands on the information contained within. But Apple has refused to assist, arguing that maybe it's not a good thing for the government to have a backdoor into every iPhone. It seems we're at an impasse. But wait, who's this? It's cybersecurity legend and psychedelic drug enthusiast John McAfee!
You may remember McAfee as the founder of antivirus company McAfee and Associates, or, more recently, as a guy who went on the run to escape a bizarre murder investigation in Belize. Now he's volunteered to decrypt the iPhone for the FBI, avoiding the need for Apple to build that backdoor. McAfee is even more pessimistic than Tim Cook about the precedent Apple would set by complying with the FBI's demands, claiming "our world, as we know it, is over."
But, assuming the bureau would turn evidence over to an eccentric software millionaire with a colorful history, how does McAfee intend to break the encryption on the San Bernardino iPhone? It's assumed that brute force is not an option, because the phone will erase itself after 10 wrong passcode attempts thanks to a security feature that the FBI is asking Apple to disable.
It's also assumed that the FBI can't disable the feature itself because doing so would require custom firmware, code-signed by Apple.
McAfee is unimpressed, and claims that if the FBI had any "true hackers" in its employ, it would have opened the phone already. Conveniently, McAfee claims to have several such people working for him.
"With all due respect to Tim Cook and Apple, I work with a team of the best hackers on the planet," he writes. "These hackers attend Defcon in Las Vegas, and they are legends in their local hacking groups, such as HackMiami. They are all prodigies, with talents that defy normal human comprehension. About 75% are social engineers. The remainder are hardcore coders."
It's through social engineering — the practice of talking people into giving you information they're not supposed to reveal — that McAfee plans to get into the phone. It's probably true that Apple's people are more vulnerable than its software, but I can't imagine how this would work, and McAfee obviously can't reveal the details of his plan publicly.
"It will take us three weeks," he writes to the FBI. "If you accept my offer, then you will not need to ask Apple to place a back door in its product, which will be the beginning of the end of America."
The FBI will probably not accept his offer.