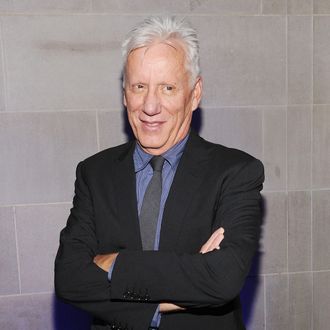 James Woods.
Photo: Jamie McCarthy/Getty Images
Actor James Woods is continuing to pursue his lawsuit against a pseudonymous Twitter user who called him a "cocaine addict." A judge denied the defendant's request to dismiss the lawsuit earlier this week, meaning that the user known as @AbeListed could be unmasked at some point. Twitter has so far refused to comply with requests to hand over the user's real identity, citing First Amendment rights.
In the lawsuit, Woods — who is now mostly famous for posting conservative memes on the web — is seeking $10 million in damages for the cocaine tweet. "AL's reckless and malicious behavior, through the worldwide reach of the Internet, has now jeopardized Woods's good name and reputation on an international scale," the initial complaint read. I mean, I'd argue that getting beet red and nude online and demanding $10 million because an anonymous commenter once said you use drugs is more embarrassing than the original tweet itself. But what do I know?
Woods's argument boils down to the assertion that some people might have believed the tweet. A seven-page report from a linguistics professor, commissioned by Woods's legal team, states as much. Possibly related: The professor who wrote that report was paid $450 an hour to do so.
In a press release, Lisa Bloom, lawyer for the defendant, said, "Twitter is a wide-open forum where wisecracks are the norm. It exists not only for the rich and powerful to lambaste others, but for all users to express themselves, often colorfully, without fear of being dragged into expensive, stressful litigation."
And, of course, James Woods would never ever use Twitter to call other people cocaine users.
Best of luck to James Woods, an abrasive war hawk whom I imagine is stomping around throwing a tantrum like the gigantic baby from Honey, I Blew Up the Kid.