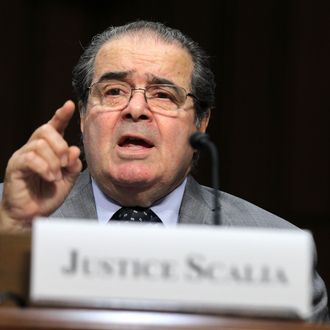 The most probably explanation: he was 79 and his health wasn't great.
Photo: Alex Wong/Getty Images
While some have already moved on to the political fallout from the sudden death of Antonin Scalia at a Texas ranch on Saturday, many are still hung up on the fact that we don't know the Supreme Court justice's exact cause of death. Initially it was reported that Scalia died of "natural causes," then a Dallas TV station said it was a "Myocardial Infarction," or a heart attack. Then Presidio County judge Cinderella Guevara, the justice of the peace who declared the 79-year-old justice dead without personally inspecting his body, told the Washington Post that he didn't have a heart attack, but suffered from unspecified chronic conditions. She said those on the scene assured her there were no signs of foul play, but Cibolo Creek Ranch owner John Poindexter's report that "We discovered the judge in bed, a pillow over his head. His bed clothes were unwrinkled" provided plenty of fodder for conspiracy theorists.
It's not just Infowars types raising questions about Scalia's death. On Sunday, William O. Ritchie, former head of criminal investigations for D.C. police, complained about the situation in a Facebook post, saying he's "stunned" that no autopsy was conducted. "How can the [U.S. Marshals Service] say, without a thorough post mortem, that he was not injected with an illegal substance that would simulate a heart attack … " he wrote. "Did the U.S. Marshal check for petechial hemorrhage in his eyes or under his lips that would have suggested suffocation? Did the U.S. Marshal smell his breath for any unusual odor that might suggest poisoning? My gut tells me there is something fishy going on in Texas."
In response to the controversy, Judge Guevara, who decided an autopsy was unnecessary, has provided a few more details on Scalia's health. She told the AP on Monday that Scalia's physician, Rear Admiral Brian P. Monahan, told her he had a history of heart problems and high blood pressure. He injured his shoulder recently, but was deemed too weak to undergo surgery. Guevara said Monahan told her the justice had doctor's appointments on Wednesday and Thursday last week and an MRI on his shoulder.
Bryan Garner, one of Scalia's close friends, said he mentioned that he'd torn his rotator cuff again, joking, "The world of tennis has lost a great competitor." He also said last week that he was dealing with a "head cold," but never discussed issues with his heart or blood pressure and seemed "strong as ever" to Garner.
It's not all that fishy that Scalia failed to give his friend a full rundown on his health, and it's legal in Texas for an inquest to be performed via phone. But the whole process does seem oddly disorganized for the death of such a high-profile government official, and it doesn't help that Scandal's spent the past five seasons training Americans to expect a nefarious twist behind every surprising development in Washington politics.