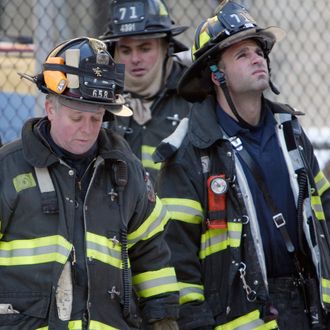 Since 2006, firefighters carry a hook, a rope, and a sliding mechanism.
Photo: Gregory Bull/AP
On what came to be known as "Black Sunday," in January 2005, six New York City firefighters were trapped on the fourth floor of a Bronx apartment building on East 178th Street. Two jumped to their deaths; the other four were seriously injured, and one has since died. It gradually emerged that this was an avoidable tragedy, and, on Tuesday, a State Supreme Court jury in the Bronx awarded $183 million in damages to be distributed among five of the firefighters and their families. (The sixth one settled out of court.) The New York Times reports that the city will pay $140 million of that total, or 80 percent, because it failed to supply the firefighters with ropes with which to escape. (Ropes had been standard-issue until 2000, then discontinued; they have since been reissued.) Further, unspecified damages will be paid by one of the building's owners, who came to an agreement with all six families before the trial ended.
In 2006, the owner and two tenants were indicted on manslaughter and reckless-endangerment charges after investigators found that illegal partitions on the third and fourth floors had exacerbated the fire, which started when a loose wire sparked near a mattress. The tenants were acquitted in 2009, after the judge found that the FDNY and the city had supplied faulty hoses and discontinued the safety ropes. The building owner's case was thrown out the next year.
Even in a city that paid out more than $1 billion in lawsuit settlements last year, $183 million is a lot: It's more than the city paid for pothole-related damage (which is common and persistent) altogether.