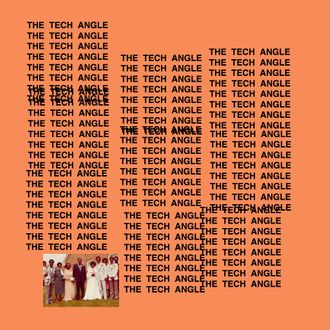 Editor's note: Following staff writer Brian Feldman was allowed to attend Kanye West's livestream event yesterday on the condition that he find "the tech angle." As it turns out, there are many tech angles from which apex content generator Kanye West can be considered. For the ease of the on-the-go reader interested chiefly in what Kanye West means to tech, we have bolded the tech angles. For further tech angles, see our recent profile of the gentleman who went viral for tweeting an extremely vulgar story about cucumbers at West.

It was a win for Kanye and for fashion, but really, more than anything, this was a win for tech. Tidal, Jay Z's streaming service, uses the World Wide Web to beam video and audio out to millions of subscribers. Amazing stuff. A concert livestream would not have been possible 30 years ago, and it's a testament to the tech industry that it happened. What if the Beatles' rooftop concert had been livestreamed on Tidal? It's not difficult to "Imagine" that the world would be very different.
But even before the music started, tech was all over Kanye's event. I bought my ticket online. I didn't even have to talk to another person. Kanye just tweeted out a link to tickets and I used a web browser to open the link and then I had tickets. Where was the ticket? Get this — it was on my phone. Incredible. We are living in the future. I simply waved my phone in front of a laser and next thing I know I'm listening to Kanye West's new album. The future!
One thing that was a real problem: long lines for merchandise. Hundreds of people waited in line forever for merch. Is it time to disrupt lines? Maybe Kanye should look into the bevy of e-commerce solutions coming out of Silicon Valley. Or even better, invest in his own.
Kanye played his new album from a laptop computer. That's tech. That's the biggest win for tech I've seen this year. He could have performed the album, or played it on a vinyl record or wax cylinder, but instead, he did it from a computer chip. How cool is that? All Kanye had to do was plug the 3.5mm headphone jack into his headphone port and he was good to go.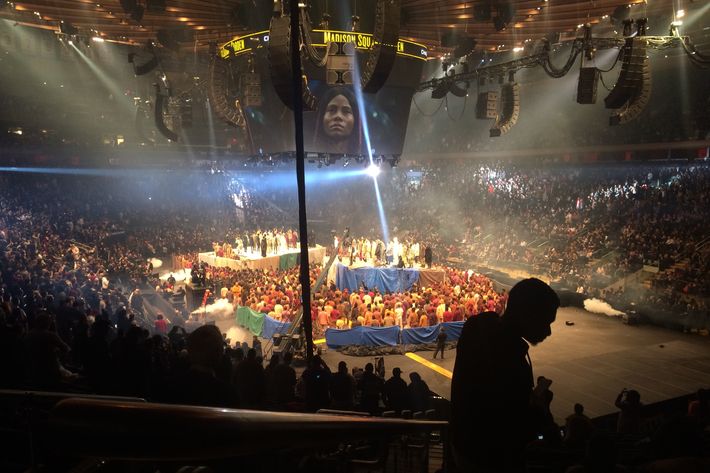 I was able to take a picture of the show using the camera in my iPhone 5s. Just look at all that detail. Remember when people used to carry just-cameras around? Cameras that weren't even in the phone? I don't. Many other people in the arena were also using their phones to take pictures and then upload content to social-media services like Snapchat and Instagram. A thin patina of tech covered the gargantuan space.
Other music during the listening party was played from a phone. Yep, it's true. If you own a smartphone (and have an accompanying data plan or are connected to a Wi-Fi network that is connected to the internet), you can use that phone to play music. It doesn't even need to be downloaded. You can stream it.
At one point, Kanye got an email (maybe regarding this) on his laptop. I know this because the sound of him receiving the email — a brief "ping" — played throughout the arena. Are push notifications the future of the music industry? Kanye makes a strong case for it.
One of the biggest tech things at the event was that Kanye revealed the trailer for his video-game project, Only One. The trailer looked amazing, though it was unclear whether footage was in-engine or pre-rendered, and I'm hoping it's a triple-A console game rather than one for mobile phones. Kanye said, "I go out and meet with everybody in San Fran, and they'll diss the fuck out of me." Why would the tech industry pass up a solid-gold opportunity like this one? I bet angel investors are really kicking themselves in the butt right now. Only One would be a great launch title for the Oculus Rift.
Later in the show, Kanye tried to stream music from Soundcloud, but it cut out. An epic fail for Soundcloud. It's too early to say what this means for their business prospects, but that's gotta be rough. Of the incident, Kanye said, "Soundcloud." Maybe Kanye should save his music locally next time.
Now, Kanye is using Twitter to address the lyrics that he livestreamed around the globe, keeping that #social conversation moving and ensuring that he will continue trending into next week. Congratulations to Kanye on the album launch, and congrats to tech.