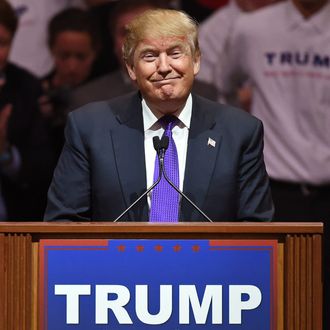 "There's going to be so much winning, you may get bored."
Photo: Ethan Miller/Getty Images
Even in his home state of Ohio, John Kasich gets Trumped. A new Quinnipiac poll shows the governor trailing Donald Trump by five points in the Buckeye State. Considering that Kasich's central pitch to primary voters is his phenomenal record as Ohio's chief executive, it's difficult to see how he can rationalize staying in the race when his constituents would prefer to elect a proto-fascist insult comic.
Kasich can find some comfort in the fact that Marco Rubio's constituents have also climbed aboard the Trump train. In the Sunshine State, Trump currently enjoys nearly three times Rubio's support, leading the Florida senator by a margin of 40 to 13.7 percent.
The problem for both donor-tested, Establishment-approved candidates is that Ohio and Florida are winner-take-all states. If present polling holds up, Kasich and Rubio won't take a single delegate from their home-field primaries. With Trump leading the polls in 10 of the next 13 states to vote, it's difficult to see where exactly the "moderate" candidates will win delegates.
But when John and Marco are forced to watch the confetti rain down on Trump this summer, they can take solace in this: In a theoretical race against Hillary Clinton, Trump loses his hometown of New York City by nearly 60 points.