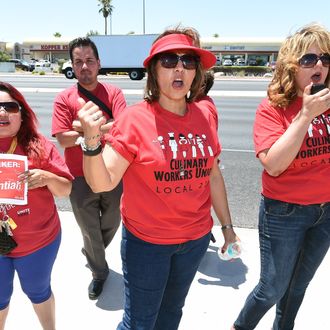 Photo: Ethan Miller/2015 Getty Images
The Culinary Workers Union, the most influential labor organization in Nevada, says it will not pick a side in the hotly contested Democratic primary.
According to the New York Times, leaders of the the 57,000-member union fear that endorsing either Hillary Clinton or Bernie Sanders would "divert resources, distract members and potentially polarize the union just as they are entering critical contract negotiations." They prefer to concentrate on the general election.
The Culinary Workers have not had great experiences so far with either candidate. During her 2008 campaign, Clinton's backers sued the union over its voting procedures after it endorsed Barack Obama in the Democratic primary, the Times recalls. More recently, Sanders campaign staffers were accused of posing as union workers to gain access to their members, but both the union and the campaign later said the matter had been resolved.
Sanders has closed the gap with Clinton in recent polling and the two are now nearly tied in Nevada, so the union may be wise not to enter into the fray if its membership is strongly divided between them. In recent campaign ads, both candidates pander heavily to the state's Hispanic community, to which more than half the Culinary Workers belong. Clinton has historically polled well with Latinos and leads Sanders among them in most key states.
The Culinary Workers Union's decision not to endorse comes just one day after the AFL-CIO, the country's largest federation of labor unions, did the same. Sanders supporters see the federation's silence as an opportunity. Clinton has received the backing of many major unions, including the nearly two-million-member Service Employees International Union.
For his part, Sanders has picked up endorsements from the Communications Workers of America, the American Postal Workers Union, and National Nurses United.