Did not like, Knicks say.
Photo: Al Bello/Getty Images
At the moment, the Twitter account belonging to interim Knicks coach Kurt Rambis shows just five "liked" tweets — none of which is particularly noteworthy. (An example: A man in Kentucky says he once reached out to Rambis with a basketball question during grad school and that Rambis was kind enough to respond.) But over the weekend, someone on Twitter noticed that Rambis's account had liked a tweet from user @ilike2touch_ that read "Love female masturbation #NSFW." The tweet also included an image that was, indeed, #NSFW. But a Knicks spokesperson tells the Daily News that Rambis wasn't responsible for the "like," and that his account was hacked and/or spammed.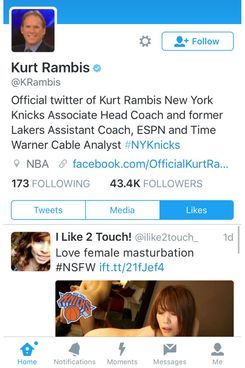 "Kurt did not like those items on his Twitter page and we worked with Twitter to make sure the situation did not happen again," said Jonathan Supranowitz, the team's vice-president of public relations. He also pointed out that Rambis's account had "liked" a tweet about money-lending on which, similarly, Rambis had not actually clicked "like."
The Daily News took the opportunity to further scrutinize Rambis's Twitter activity and noted that he still follows the user @GreatAssDaily.
This much is clear: It's been a strange season to be a Knicks PR rep, even by Knicks standards.