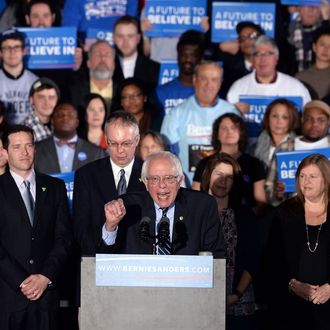 L'chaim!
Photo: JEWEL SAMAD/AFP/Getty Images
A Jewish socialist just won New Hampshire by 20 points. After the election of an African-American with the middle name Hussein, it may be difficult to get especially excited about Bernie Sanders becoming the first Jew to win a presidential primary. After all, we did already have a Jewish vice-presidential nominee — albeit one most progressives are anxious to forget.
But Sanders's victory is a remarkable triumph for a certain strain of American Jewish political thought. When asked about his spirituality at last week's Democratic debate, the Vermont senator replied, "My spirituality is that we are all in this together and that when children go hungry, when veterans sleep out on the street, it impacts me."
Sanders's Judaism is the socialist, universalist sort that was conceived through centuries of Talmudic scholarship, incubated in sweatshop factories in New York and Chicago, and brought to life in the great labor struggles of the early 20th century. Ironically, it was precisely this tradition that once made the prospect of a Jewish president utterly unthinkable.
A 1948 survey by the American Jewish Committee found nearly half of Americans associated Jews with Soviet spying, while 21 percent believed that "most Jews are Communists." Of the 124 people questioned by Joseph McCarthy's Senate Committee on Homeland Security and Governmental Affairs in 1952, 79 were Jews, according to a 2008 study by historian Aviva Weingarten.
For most of the 20th century, Jewish socialists had to turn right to gain acceptance in American public life. In 2016, American politics is turning left to gain the acceptance of a Jewish socialist.
In her concession speech, Hillary Clinton pledged that she would never allow Wall Street to threaten Main Street again. "When I tell you that no bank can be too big to fail and no executive too powerful to jail, you can count on it," the former secretary of State exclaimed. She went on to decry the debts and "stacked deck" that keep working people from flourishing in America. It's possible that Clinton would have employed such forthright economic populism had there been no Jewish socialist in the race. But it's doubtful.
"Together, we have sent the message that will echo from Wall Street to Washington," Sanders shouted through his hoarse Brooklyn accent into the New Hampshire night. "And that is: The government of our great country belongs to all of the people."
Tonight, New Hampshire belongs to a Jewish pinko.