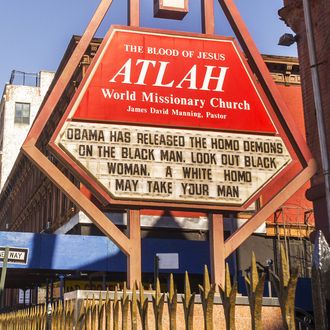 The notorious sign would definitely get an overhaul.
Photo: Richard Levine/Demotix/Corbis
The ATLAH World Missionary Church building on West 123rd Street is best known for its signs out front reading "Jesus would stone homos" or "Obama has unleashed the homo demons." As of last Thursday, it's also in foreclosure, to be auctioned on February 24. And in a bit of delightful symbolic comeuppance, a pair of church groups run by those very same "homo demons" is looking to put in a bid, DNAinfo reports.
The LGBT-friendly River of Living Waters Ministries and the Ali Forney Center, the largest organization in the country helping LGBT homeless, each set up a crowdfunding campaign this weekend. In three days, they have collectively raised about $115,000; the goal on the RLWM page is $1.2 million.
ATLAH (the acronym stands for "all the land anointed holy") owes its creditors more than $1 million and faces nine federal tax liens. Its pastor, the Reverend James Manning, insists that the foreclosure is a "land grab," and that the debt was largely a matter of unpaid water bills and a tax he doesn't believe he owes. (The church does receive $185,000 in tax exemptions.)
During a 2014 protest, activists came up with alternatives to replace the likes of "Harlem is a Sodomy-Free Zone" on the church's notorious message board. One promising possibility: "Love is all you need … and gay sex."