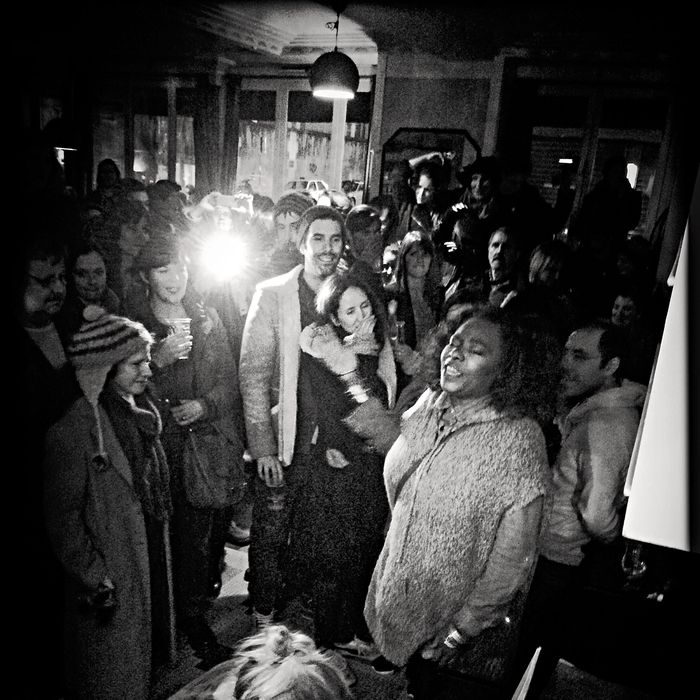 Singing Nina Simone covers at the reopening of Le Carillon.
Photo: Denis Allard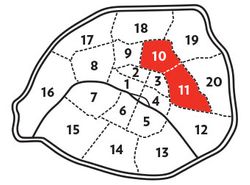 From morning till night, Parisians have been gathering at the Place de la République. Since November 13, it has become a living memorial — just steps from where the terrorists attacked. The statue of Marianne, which passersby had stopped noticing years ago, is now where people flock: to light candles, to write messages, to leave drawings. They come to cry and to talk, as if they don't have a choice. Madonna showed up discreetly one night to give an impromptu acoustic performance. She sang "Imagine." And "Like a Prayer."
The neighborhood where I work, the 11th — both working class and "gentrified" — which extends from République down toward the Bastille and up near Belleville, full of restaurants and bars, is in many ways the heart of Paris. Today its residents are at once worried and combative, determined to go to rock concerts, to drink on the terraces of cafés, to meet sadness with camaraderie. The desire to be together has won out over the fear of leaving one's house.
Le Carillon, one of two adjacent restaurants where 15 people were killed, reopened January 13. That night, a young woman, accompanied by a friend on the piano, sang Nina Simone's "Feeling Good." And in the streets of the 10th and the 11th, it almost seems as if everyone has the words to that song floating in their heads. We are not feeling good, but we are feeling better, for, as the historic motto of Paris reminds us: Fluctuat nec mergitur. If the city has been "tossed by the waves," it refuses to sink. —Jean-Marie Durand, editor at Les Inrockuptibles.
"A Week Later, I Was Even Able to Laugh."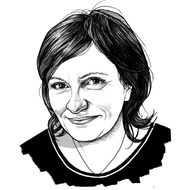 Valérie Spasojevic, owner of Le Centenaire, a restaurant around the corner from Le Bataclan
"Almost everyone who was at my restaurant that night came back out of solidarity the following Friday. A week later, I was even able to laugh with the man who had been shot in the leg — a waiter at Le Bataclan. Monday morning I was short of breath coming back to work. I started to have major anxiety. I'm doing better now. It comes in waves. One day you're okay, the next you aren't. Parisians haven't changed their habits. They've been wonderful. The tourists have, though. So the weekend is okay, lunch is okay, but at the beginning of the week, it was really the tourists we counted on, and they just aren't here anymore. Dinner service early in the week is a bit sad now."
"I Wrote a Song to Make Sure the Attacks Will Not Be Forgotten."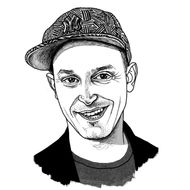 Axiom, a rapper who's lived in the 11th for eight years
"My childhood friend Ludovic Boumbas was killed at the restaurant La Belle Équipe. I wrote the song 'Ludo' to make sure the attacks are not forgotten. I don't think this happened in the 11th by chance; it's here where diversity works. And that bothers not only the jihadists but all of the extremists, including the extreme right. They think everyone should stay in their own sector. People call the 11th 'bobo' (bourgeois bohème), but it's also 'paubo' (pauvre bohème). And so you'll see all kinds of people here: actors, guitarists, journalists. There's a certain socioeconomic diversity, which is important, and there's also a racial diversity. At the same time, artists aren't moving to the 11th anymore, because they can't find housing. It's too expensive. Even the ­basements are too expensive."
Where People Went to Clear Their Minds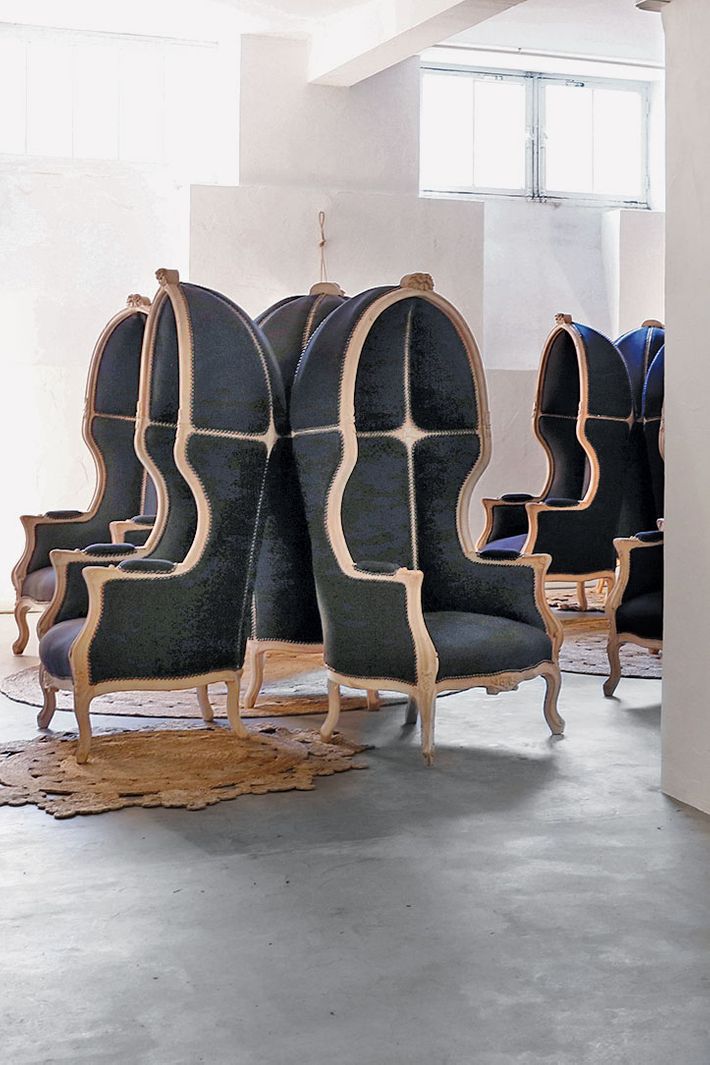 For the month of November, Melissa Unger's "spa for your mind," Seymour+, was free to anyone who needed it. The storefront, located near the Canal Saint-Martin, features five meditative rooms, where visitors are instructed to perform different writing and drawing exercises. Unger says, "People are thanking us that we're here and going deeper within their processes within the space."
André Saraiva's Grand Amour Hotel Still Had a Grand Opening on November 27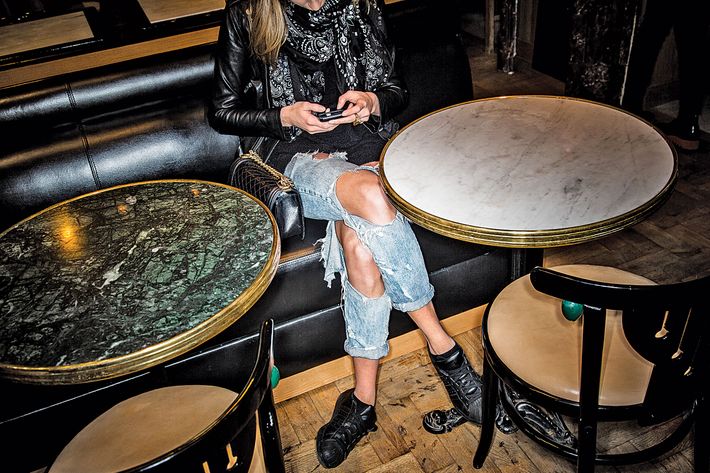 "A few days after the attacks, we were on our terrace, and everybody went together outside to show that we were not scared. Nobody's going to scare us. The French, we have this ­tradition of résistance. I used to live in the 10th when I was young. My first art studio was on Rue du Faubourg Montmarte. Back then, it was a kind of scary neighborhood, where all the drug dealers and the prostitutes used to hang out. The drug dealers stayed, but they're selling different drugs."     
Résister
Literally, it means "to resist."
The word obviously has a loaded history here, but it's taken on a new meaning: not being afraid to go out and have a drink. Says Slate France writer Nicolas Santolaria, "It's about partying and not about beating people up." But he's noticed an unsettling development. "Some of these slogans that came about after the attacks, like #resister, ­#jesuisenterrasse ("I'm out on the terrace"), #tousaubistro ("Everyone to the bar") were orchestrated by the cafés themselves. There was an ad for Beaujolais Nouveau that made use of the idea of resisting." As Frédéric Beigbeder, editor of the magazine Lui, puts it: "People are sad and scared, but at the same time there's a strange feeling of being a hero if you drink a glass of wine in the street. We joke: 'I am the General de Gaulle of mojitos! And here's the Jean Moulin of caipirinhas!' "
Now Can You Please Stop Calling This "the Brooklyn of Paris"?
Vanity Fair France columnist John von Sothen vents.
"News outlets have been referring to the 10th and 11th as ­'Paris's ­Brooklyn.' Now when people ask me what the 10th is like, I say it's the Brixton of Paris. Or it's the Silver Lake of Paris — that's my new bit. It's funny because people in the 10th are always complaining that they're being categorized unfairly by this whole 'Brooklyn thing.' You'll talk to a French guy who will be like, 'The 10th has its own identity, blah, blah, blah.' But at the same time these are the very people who are opening up the whiskey distilleries and fixed-gear-bike shops, all with this Brooklyn aesthetic. I'm annoyed by both sides. 'Brooklyn' is an easy way to label a place that's diverse or affordable, which is ironic because that doesn't correspond with Brooklyn today. The incomes here are nothing compared to New York."
… Even Though There's a Kebab Shop With Marcel Breuer Chairs
Where people looking to take back their neighborhoods are actually going.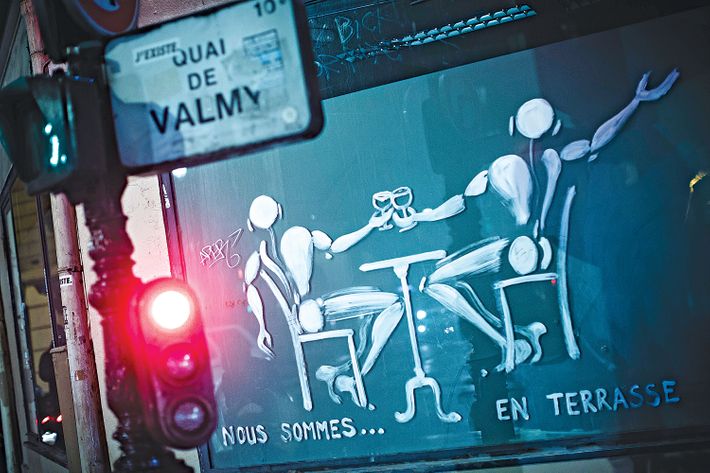 Louie Louie
"It opened in December, and it's not your run-of-the-mill pizzeria: There are marble floors and copper light fixtures. I love their thin-crust diavola. They have a barman who crafts cocktails like the Beurresalino daiquiri."  Amélie Darvas, chef and co-owner of Haï Kaï
Jones Café Restaurant
"The restaurant Bones just transitioned into an open-all-day café called Jones. It has a stripped-down vieux bistrot style. I like that you can drink wine from bottles that are already open." Pierre Jancou, chef-owner of Le P'tit Café, opening in March
Rococo
"The kebabs here are like street food deluxe. All food is made on the premises, and you'll find atypical vegetables like cauliflower on the kebabs. It's neo-industrial with Marcel Breuer chairs." Gabriel Stein, owner of Osè African Cuisine
Gravity Bar
"The rounded wood ceiling gives an interesting shape to the space. They send out plates like sea bream with squash, and for cocktails, I skip the menu and just tell the barman, Michael, what I'm in the mood for." —Romain Tischenko, chef and owner of Le Galopin
Overheard at Le Carillon the First Saturday After It Reopened
The Scene
The bar was bustling and full of well-wishers and complicated feelings. And then a Scientologist walked in …
Scientologist to barman (gesturing to the book in his hand)
"Do you know about Scientology?"
Barman
"Look, I'm busy."
Scientologist, turning to Coco, the owner
"After experiencing tragedy, people need direction … I think you'll find that L. Ron Hubbard has some instructive lessons …"
30-something pubgoer
"Yeah, man, after what happened here, what they really need right now is more religion."
Meanwhile, What Is That Smell?
Plus other issues preoccupying 10th and 11th dwellers.
The Dredging of the Canal
In emptying the Canal Saint­-Martin of its stagnant water, the city of Paris is trying to keep the complex ecosystem of birds, fish, and other organisms healthy for the coming decade. Day by day, new objects revealed themselves — bicycles, computers, motorcycles — but what hit the pedestrians most as they stared at the bottom of the canal in January was the potent odor. A few businesses nearby, including bistro La Marine, have decided to close and time renovations to coincide with the canal's desertification; they will reopen once the water returns and the air is fresh again in April. 
The Refugees
Farther north along the edges of the canal in the 10th, not too far from the Gare du Nord, volunteers are looking to help house and feed the hundreds of homeless refugees from Afghanistan, Syria, Iraq, and other countries who have taken to sleeping in open spaces near the Jardin Villemin and the Boulevard de la Chapelle. Residents and councilors in the arron dissement have pushed forward programs, alongside the municipal and national governments, to set up food kitchens as well as to open a permanent shelter in the 10th.
The Green Spaces
On a more upbeat note, after ­almost ten years of work by locals, the gaps of green space along the Boulevards Jules Ferry and Richard Lenoir — which connect the bottom of the Canal Saint-Martin to the 11th Arrondissement, past the Bataclan, all the way to Place de la Bastille — are getting closer to being filled. With any luck, the city will soon approve the final proposal that will create a mile-long park running down the center of the boulevards. It will be a rare patch of nature in this part of Paris, to be open 24/7 year-round.
The Book That's Taken On New Meaning: Arab Jazz.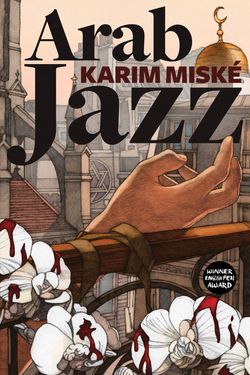 Karim Miské's 2012 thriller Arab Jazz — a tale of murder and religious extremism — has since gained a strange prescience. The Kouachi brothers (who attacked the Charlie Hebdo offices in the 11th) raced their getaway car through a neighborhood that's central to the book, prompting Miské to wonder, in an interview with the Independent, 'What is happening? Why have these people invaded my book?' "
Reporting by Mark Byrne, Sarah Dohrmann, Elisabeth Fourmont, Carl Swanson, and Alex Toledano.
*This article appears in the February 8, 2016 issue of New York Magazine.