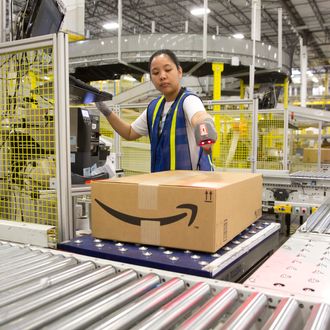 Photo: Bob Daemmrich/Corbis
It might sound absurd for Amazon, the company most directly responsible for the slow demise of the brick-and-mortar bookstore, to open up hundreds of its own brick-and-mortar bookstores. But in actuality, it's, well, yeah, it's still kind of insane. And yet: Amazon is apparently opening hundreds of bookstores in malls around the country.
According to Sandeep Mathrani, the CEO of mall operator General Growth Properties, Amazon is planning on opening "300 to 400" bookstores this year. The comment was made in an earnings call earlier Tuesday. Amazon itself did not offer any additional comment to The Wall Street Journal, which first reported the news, nor did a representative for GGP. If anyone would be clued in on the plans, the head of a mall operator seems a more likely candidate than most, but this item falls pretty squarely in rumor territory for now.
Amazon opened a single retail store last fall but has said little about why it did so or how successful the experiment was. (In addition to books, it also sold the company's hardware offerings, including its line of Kindle e-readers and tablets, many of which are not particularly subtle attempts at tethering customers to the Amazon marketplace.) 
It's obvious that shopping online and shopping in person are fundamentally different experiences — and the institutional strengths that have made Amazon a formidable online retailer aren't going to directly translate to selling books from a storefront: There's no easy way to browse Amazon's site as you would the shelves of a bookstore. Combining the impulse-buying of a physical space with the vast amounts of retail data that Amazon crunches every day is not the most absurd idea in the world. As much as e-commerce is now the default mode for many people, it's tough to sell products to people who are not deliberately seeking them out.
If bookstores don't play to Amazon's strengths, leases on physical locations in cities might. Amazon, after all, built its empire on a peerless logistics network that allows it to move objects more efficiently and cheaply than any other institution on the planet, and new physical spaces could act as distribution centers for the online retail business (especially the burgeoning same-day delivery program). But even then, it doesn't really make sense to pay high prices for commercial real estate — and use a lot of that space for retail display — when nearby warehouses would be cheaper and not add a significant amount of time to even same-day delivery.
There are, as the Journal points out, substantial considerations, the main one being that opening 300 to 400 retail stores is a years-long process with different cost considerations. For comparison's sake, Barnes & Noble's decades-old operation currently runs around 640 stores.