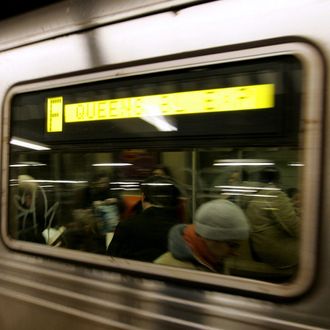 Commute if you dare.
Photo: Daniel Barry/Getty Images
In a scene straight from the darkest nightmares of every subway-riding New Yorker, a man in his 60s was dragged to death by an F train in Queens Monday evening. The man, who the New York Daily News reports may have been intoxicated, tried to board a southbound F at the Union Turnpike–Kew Gardens station around 6:45 p.m. yesterday. According to an MTA spokeswoman, police responded to a report of an injured man on the platform. It's unclear how many stops the train traveled before the victim was freed, but he was later taken to Jamaica Hospital, where he died. The incident is still under investigation.
It's not what you'd call an everyday occurrence, but this is not the first time a commuter has died after getting caught in a subway train's door. In July 2012, 38-year-old Anita Gebode died boarding a 3 train at the 135th Street station after she tripped and caught her foot between the platform and the train. On every subway train there's a conductor, who gives the order to stop and start the train, and a motorman, who follows it. According to the motorman's testimony, the conductor looked up and down the track several times (as he's supposed to) but "didn't see" Gebode, or he "would've pulled the [emergency brake] cord." Instead, Gebode's body was slammed against the columns at the station as the train pulled out, leaving a 300-foot trail of blood before it was flung onto the tracks.
There have been a number of close-call incidents, too: one in 2011, when a man broke his own arm to escape being dragged by the train; and one in 2000, when a teenage boy pulled the emergency brake moments before a trapped 12-year-old girl was thrown against the wall of the station. Yesterday's death comes just after the MTA announced it's "in the process of working on a pilot program" to install sliding doors to keep commuters from falling onto the tracks.