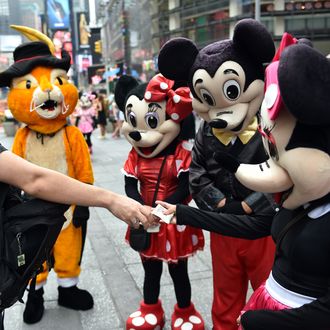 Looks like fun!
Photo: Stan Honda/AFP/Getty Images
As we've known for a while, nothing says "I'm visiting the Big Apple" quite like a posed photograph with a dude in a matted, fraying character costume in Times Square. And, as we've also realized, superheroes and Muppets are not about to give away such valuable souvenirs without anything in return.
Yet one recent tourist apparently forgot about this quid pro quo. He got a real gem of a picture with Minnie Mouse, Cookie Monster, and Olaf, the snowman from Frozen — and then didn't pay up. That's when the Minnie-Cookie-Olaf trio dropped the friendly Disney façade, blocked the tourist's way, and boxed him in, apparently trying to extract $20, reports NBC 4. The tourist finally coughed up $10, but before the costumed goons could rough him up further, the cops stepped in and swept up all three on harassment charges.
This is not Minnie, Cookie Monster, or Olaf's first run-in with the law, but only insiders can say whether the same is true for the people sweating underneath those oversize heads.
It also turns out those weren't the only Times Square lurkers arrested this week. The Daily News reports that a Batman-costumed performer was held by cops and cited Tuesday for disorderly conduct after being caught in an area outside his 42nd Street dominion, one where characters aren't allowed to solicit tips. According to Batman, whose real name is Jose Escalona-Martinez, he was merely walking "like a tourist" — just a regular superhero among us. Escalona-Martinez, who also sometimes suits up as Spider-Man and once testified at a City Council meeting dressed like this, has been arrested twice since 2013; both times he filed suit against the city for unlawful arrest ($2 million, and $2.5 million, respectively). He and his lawyer told the News that they'll probably file another after this recent dust-up. 
Last October, the city formed a Times Square Task Force after a variety of people, including Governor Andrew Cuomo, started freaking out about the desnudas, the topless ladies in the pedestrian plazas who — like the Elmos — panhandle for tips and pester pedestrians. The NYPD also created a new unit — which is now fully operational — to patrol the tourist mecca to tackle some of the problems with rogue characters and other quality-of-life issues. A spokesperson for the mayor's office told Daily Intelligencer that the administration is implementing all of the Task Force proposals they can without involving the City Council, such as banning street fairs from Times Square side streets. Some other plans, such as a transportation study, are contingent upon the completion of construction projects on Seventh Avenue and the pedestrian spaces. (No, this does not portend the destruction of the plazas, despite what NYPD commissioner Bill Bratton and Mayor Bill de Blasio briefly suggested this fall.) Most everything else will involve new legislation. On the agenda: creating an entity to inspect vendors, and giving the Department of Transportation the authority to manage civil and commercial activity in Times Square's pedestrian spaces and other such plazas citywide.
Before this week's spate of arrests, a Statue of Liberty was arrested for hassling a tourist last month, and an Incredible Hulk was nabbed for the same behavior in November. But at least one of the desnudas got some good press recently. The Post photographed one of the topless women, decked out in the usual revealing getup, shoveling snow out of Times Square during Winter Storm Jonas. It ran under exactly the headline you'd expect. 
This post has been updated with comments from the mayor's office.