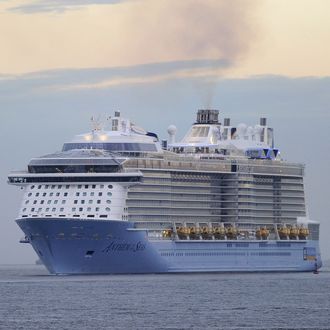 Bruise cruise.
Photo: Ander Gillenea/AFP/Getty Images
When do you turn your 4,000-passenger cruise ship around? When you hear you're headed for the winter megastorm that is causing whiteout warnings all over New England, or when you're right in the middle of it? On Sunday night, Royal Caribbean's 168,666-ton Anthem of the Seas, on its way down to Florida, drove straight into the middle of Winter Storm Mars, a trip that left four people injured and the ship damaged. Strangely, the TV signal never went out, so the Super Bowl kept playing even during the height of the storm. 
The NOAA had warned at 1 p.m. on Friday to watch out for "developing hurricane-force winds" on Sunday, says the agency's spokesperson Susan Buchanan. The ship had reached Cape Hatteras by Sunday afternoon, and at 3:30 p.m. the ship's captain, Claus Andersen, told passengers to remain in their cabins as the storm intensified around the liner, and turned the ship's prow toward the storm to stabilize it. (By some accounts, he was facing 30-foot waves with wind gusts over 120 miles per hour.) The liner stayed put until 1 a.m. on Monday, when it resumed its trip. The captain told passengers, according to USA Today, that Sunday was one of the toughest days he's ever had at sea. Royal Caribbean has since released a statement saying that the wind speeds the ship experienced were "higher than what was forecast" for the area it was cruising through.
The damaged cruise ship, the third-biggest in the world, headed back to its home port (Bayonne, New Jersey) on Monday because of further forecasts of bad weather, having correctly decided that its passengers have been through plenty. They'll get refunds and a half-off credit towards another cruise. Hey, at least it was just a rough ride and not, say, the hallways flooding with human waste.