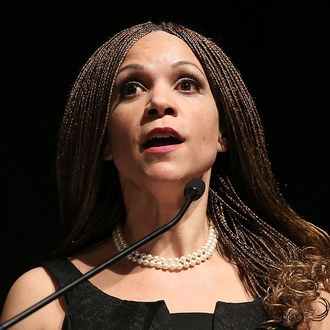 Melissa Harris-Perry.
Photo: J. Countess/FilmMagic
Melissa Harris-Perry hasn't welcomed MSNBC viewers to "nerdland" since Super Bowl Sunday. For the past two weekends, Harris-Perry's unusually cerebral morning show has been preempted for straight news coverage of the 2016 campaign. Her program was set to return to its 10 a.m.–to-noon slot this Saturday, but when the lights come up, the host won't be there.
"Putting me on air seems to be a decision being made solely to save face," Harris-Perry wrote in an email to her staff, explaining why she would not be appearing on her program this weekend. "Here is the reality: Our show was taken — without comment or discussion or notice — in the midst of an election season. After four years of building an audience, developing a brand and developing trust with our viewers, we were effectively and utterly silenced."
In the email, which was first obtained by the New York Times, Harris-Perry called attention to her status as one of the network's few African-American on-air personalities. Arguing that her show had been put back on the schedule to "provide cover for MSNBC" from social-media criticism of its lack of diversity, Harris-Perry wrote, "I am not a token, mammy, or little brown bobble head."
Harris-Perry told the Times that the network had stolen editorial control of her program and demanded that she forgo the show's signature discussions of policy and political theory so as to give more time to the latest developments in the presidential horse race. The host did say that she did not believe there was a "personal racial component" to the show's treatment. Last year, the network's African-American political reporter Joy Reid had her daytime show canceled, while Al Sharpton's nightly program was demoted to the weekend.
An NBC spokesperson told the Times, in a statement, "In this exciting and unpredictable presidential primary season, many of our daytime programs have been temporarily upended by breaking political coverage, including M.H.P. This reaction is really surprising, confusing and disappointing."
Harris-Perry, who is also a political-science professor at Wake Forest University, is one of the last vocally progressive daytime hosts on MSNBC. Since Andy Lack took the reins of NBC News last year, he has steered the cable network away from liberal analysis and toward breaking-news coverage, particularly in the daytime hours.