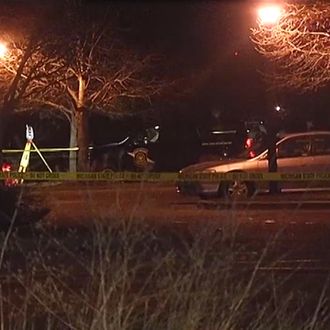 Outside a Cracker Barrel restaurant, the third and final shooting location, where four people were killed.
Photo: WWMT-TV
Six people were killed and two wounded when a working Uber driver allegedly went on a several-hour, seemingly random shooting spree Saturday night in Kalamazoo, Michigan. The series of shootings, all allegedly perpetrated by the same gunman, started around 5:42 p.m. at an apartment complex, then continued at a Kia dealership around 10 p.m., and the final shooting happened about 20 minutes later in the parking lot of a Cracker Barrel restaurant. Within a few hours, following a massive manhunt, police eventually stopped a Chevrolet SUV driven by 45-year-old Jason B. Dalton, and took him into custody. The Associated Press reports that police also found a semi-automatic handgun in the vehicle during the arrest. They say that though the shootings appear premeditated, the choice of victims appears to have been random. 
Local NBC affiliate WOOD TV8 is reporting that police say Dalton was an Uber driver who was taking fares between the shootings. The channel points to a Facebook user's post warning about an Uber driver her fiancé had gotten a ride from in Kalamazoo just before the shootings. The driver's photo and first name matched Dalton's. In the post, she warns others in the area that the driver was erratic and driving recklessly, and had even gotten into an accident with her fiancé in the car. Kalamazoo officials confirmed to the TV station that they are looking into the post, as well as reports that Dalton had dropped off a group of people at the Fairfield Inn right next to the Cracker Barrel restaurant where the third shooting occurred. People at that hotel confirm police were interviewing guests there. This is the since-deleted Facebook post being investigated: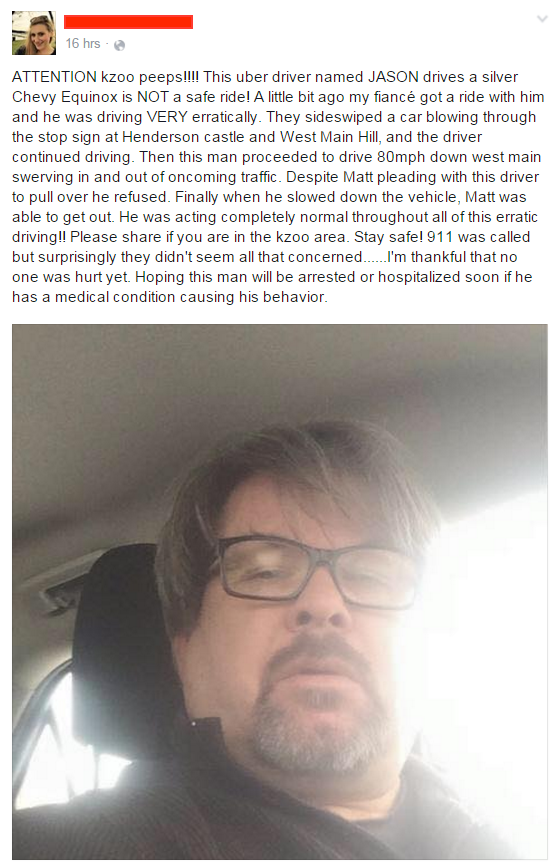 The Washington Post spoke with the woman who posted the Facebook message:
In a phone interview, Mackenzie Waite of Kalamazoo said her fiance was picked up by an Uber car — a silver Chevy Equinox driven by Dalton — around 4:30 p.m. for what was supposed to be a short ride costing $5. Halfway through the trip, the driver picked up a phone call on his bluetooth, Waite's fiance later told her. Her fiance couldn't hear what was said, but the driver began acting strangely.
That means the ride happened before the first shooting at the apartment complex around 6.p.m. According to Waite, it was after the phone call that Dalton starting driving erratically. Her fiancé sent a detailed account of the experience to Uber, and contacted police, but they did not get back to him until 6:30 p.m.
A reporter in Michigan talked to another woman who apparently had a near miss with regard to hiring Dalton through Uber, as he had apparently agreed to pick her up following the final alleged shooting at the Cracker Barrel:
Regarding the victims, a father and his 18-year-old son were killed while looking at a cars at the Kia dealership. Four women between the ages of 60 and 74 were killed while sitting in their cars in the parking lot of the Cracker Barrel restaurant near Interstate 94. At that location, the gunman apparently got out of his car and spoke with his targets before opening fire on them. A 14-year-old girl was critically wounded in that shooting as well, and was originally reported as the seventh fatality as doctors originally thought she was brain dead. In fact, according to NBC News, authorities said it was such a close call that doctors were getting ready to harvest her organs for donation when she squeezed one of her parent's hands. All five victims at the Cracker Barrel knew each other, according to police. The girl was still in "seriously grave condition" as of Sunday morning. The other wounded victim, a woman shot four times while with her three children at first shooting at the apartment complex, was listed in serious condition, and is expected to survive.
According to the New York Times, Kalamazoo County prosecutor Jeffrey Getting became emotional when discussing the attacks with reporters. "How do you go and tell the families of these victims that they weren't targeted for any reason than they were there to be a target?" he said. "This is every community's nightmare — when you have someone going around just randomly killing people, no rhyme, no reason," added County Undersheriff Paul Matyas. Public Safety Chief Jeff Hadley told reporters, "We just can't figure out the motive. There's nothing that gives us any indication as to why he would do this or what would have triggered this. The victims did not know him, he did not know the victims." As far as whether or not the attacks were premeditated, Getting told the press on Sunday that, "We have 9, 10, 11 shell casings at each of these scenes. These weren't a sudden explosion … this was done intentionally."
Dalton, whose distinctive car seems to have been identified from a surveillance video and witness descriptions, has no known criminal history. According to CNN, who spoke with one of Dalton's neighbors, he is married with two children, and though he was "quiet" and "nice" a neighbor also knew that he liked guns. Another neighbor told the Post that "The guy must have flipped. He never was in that state of mind ever. There was no sign of depression." Authorities have searched Dalton's home, and reported that they found "evidence of value" there.
The only suspect in the shootings, Dalton is expected to be charged on Monday with six counts of murder, with two counts of assault with attempt to commit murder, and six counts of felony with a firearm. It is not yet know if Dalton had a license for the handgun police found him with.
Uber was reached for comment by CNN and chief security officer Joe Sullivan confirmed that Dalton was an Uber driver and had passed a background check. The company is telling reporters that:
We are horrified and heartbroken at the senseless violence in Kalamazoo. Our hearts and prayers are with the families of the victims of this devastating crime and those recovering from injuries. We have reached out to the police to help with their investigation in any way that we can.
This post has been repeatedly updated to reflect new details in a developing news story.