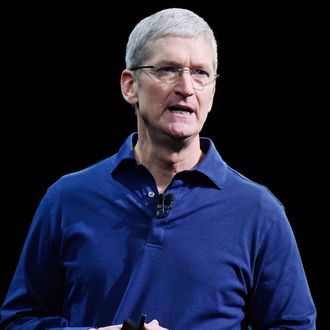 Tim Cook.
Photo: David Paul Morris/Bloomberg Finance LP/Getty Images
Tech companies, including Google parent Alphabet, Facebook, Microsoft, and Amazon have announced intentions to file a joint amicus brief in support of Apple in its fight with the FBI and Department of Justice over whether it can be forced to unlock the phone of Syed Farook, one of the San Bernardino terrorists, The Wall Street Journal and others report. CEOs from some of the companies, including Google's Sundar Pichai and Facebook's Mark Zuckerberg, have vocally supported Apple in recent weeks. An unnamed source told Re/code, "The industry is aligned and working on a joint submission to the court."
This comes hours after Apple filed to dismiss the court order calling for them to work with the FBI, saying, "This is not a case about one isolated iPhone … Rather, this case is about the Department of Justice and the FBI seeking through the courts a dangerous power that Congress and the American people have withheld: the ability to force companies like Apple to undermine the basic security and privacy interests of hundreds of millions of individuals around the globe." The District Court of Central California gave the government until March 10 to respond. Apple CEO Tim Cook said in an interview with ABC News that he would be prepared to take this case to the Supreme Court.
Yesterday, the New York Times reported that Apple is working on beefing up the security systems in iPhones even more to make it even harder than it already is for governments to break into them. The Department of Justice is currently involved in at least a dozen other cases trying to force Apple to break into iPhones using the same 18th-century law.