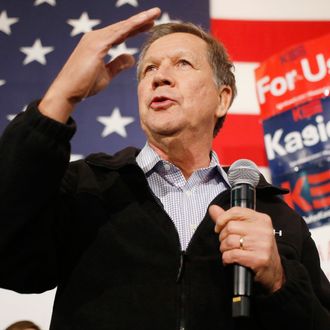 John Kasich, governor of Ohio and 2016 Republican presidential candidate, speaks during a campaign event at the Patriots Point Naval & Maritime Museum in Mount Pleasant, South Carolina.
Photo: Luke Sharrett/Bloomberg Finance LP/Getty Images
John Kasich, winner of the 2016 Jon Huntsman Memorial Prize for most moderate candidate in the GOP field, has cut off all state funding to Planned Parenthood in Ohio.
The governor signed a bill on Sunday that prohibits the Buckeye State from contracting with any entity that performs abortions. Although Planned Parenthood isn't named in the legislation, the law will deprive the organization of $1.3 million in funds, according to NBC News. State and federal laws already bar the direct use of public subsidies for abortive services. Now Ohio will bar Planned Parenthood from accessing such funds to perform breast-cancer screenings, STD testing, and any other form of women's health care.
Over the course of the 2016 campaign, Kasich has become every liberal's favorite Republican candidate. In a race where the GOP front-runner has spoken approvingly of mass-executing Muslims with bullets dipped in pig's blood, the Ohio governor's refusal to scapegoat minority groups has made him seem hopelessly moderate. But on matters of reproductive health care, Kasich is actually more extreme than his party's most xenophobic war-crimes enthusiast — Donald Trump recently said, "Planned Parenthood does some wonderful things for women's health."
Kasich has shuttered half of the abortion clinics in Ohio. He's also described climate change as "some theory that's not proven." And the governor's chief fiscal proposal — a balanced-budget amendment — would risk throwing our economy into a perpetual recession.
When Jeb Bush ended his campaign on Saturday, several liberal pundits mourned his party's rejection of such a reasonable, moderate voice. But Bush's moderation was largely rhetorical. On the policy front, the former Florida governor had called for reinstituting military torture, privatizing Medicare, and a bevy of new or intensified military interventions.
Kasich's move to defund Planned Parenthood is a useful reminder that being "the most moderate candidate in the Republican race" doesn't count for much. The world's largest miniature poodle is still a very small dog.