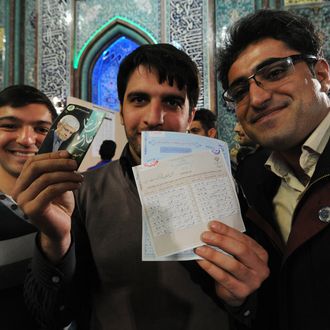 Young Iranians hold up their ballots before voting for reformist candidates in Tehran.
Photo: Scott Peterson/Getty Images
Early results from nationwide elections on Friday in Iran show that moderate and reformist political forces have made significant gains, according to semi-official Fars and Mehr news agencies. Coming at the expense of the country's hardliners, the gains represent an important win for President Hassan Rouhani, a moderate who favors greater engagement with the West, and whose administration was responsible for forging the landmark nuclear deal with the U.S. and Europe over the summer. That agreement led to the dismantling of much of Iran's nuclear program in exchange for the lifting of economic sanctions on the country, and there has already been a wave of foreign investment in the Iran as a result, as well as an overall significant improvement for the country's economic outlook.
The gains came in both the country's parliament and its assembly of experts, which is an essential clerical body that will select the next Supreme Leader — an important responsibility considering the fact that current supreme leader, Ayatollah Khamenei, is 76 years old and has been suffering health problems for years. While no one political group appears to have won an outright majority in Iran's parliament, the loss of power for the country's hardliners is nonetheless a significant development. Indeed, the election appears to demonstrate a slow-but-continuing political shift in Iran. Iranwire's Reza HaghighatNejad offers a preliminary analysis:
Overall, results indicate that Rouhani's government have won more support in parliament, and that its policies will be more readily accepted, particularly when it comes to economic and administrative policies. But because these newly-elected parliamentarians are so diverse in their policies and outlook, it is clear that differences over foreign policy and cultural, social and domestic issues will remain – meaning Rouhani's battles in parliament are not over.
Rouhani is also up for reelection next year, and Friday's vote was considered by many to be a referendum on his presidency thus far.
As the Associated Press notes, reformists have not held significant power in Iran since 2004, and reformist politicians and media members have faced routine oppression since then, and likely still will in many ways. However, the shift also means that more hardline holdovers from the time of former president Mahmoud Ahmadinejad's era are now gone.
Either way, the rise of moderates and reformists in Iran's government is good news for those who not only favor more international engagement, but expanded personal freedoms at home. As the National Iranian American Council's Reza Marashi told CNN, "After these elections there will be a more diverse range of voices, and that will better reflect the will of people. It's not perfect, but will be better."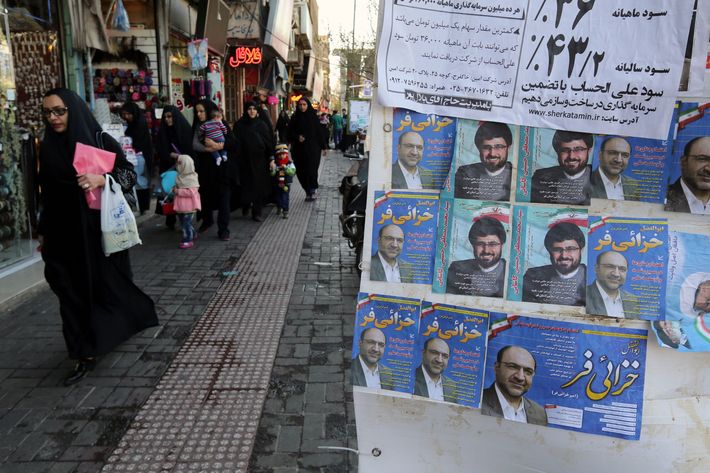 About 33 million Iranians — roughly 60 percent of eligible voters — participated in the elections, and the final results are expected on Tuesday.