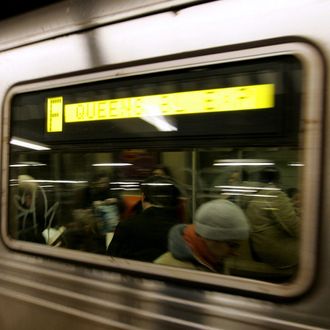 Photo: Daniel Barry/Getty Images
The New York City subway system is having a rough couple of months. Riders are on alert over the recent string of slashings (and at least one needle), and the NYPD is ramping up efforts against subway sex crimes. These headline-grabbers aside, felony subway crimes were up 36 percent in the first month of 2016 compared to January of last year. And now the MTA thinks it has a solution: create a database of repeat subway offenders, and ban them from the trains.
On Monday, the MTA board voted in favor of a measure that would assemble a team to track the underground thieves, masturbators, and blade-wielders with long rap sheets, and share information with the NYPD and the district attorney's office to help bar those convicts from riding the rails. MTA board member Allen Cappelli, who proposed the plan, told Daily Intelligencer that the focus is on those who use the subway system to perpetuate crimes — whether theft or lewd acts — over and over again. The initiative, he said, will require close coordination with prosecutors so that keeping an offender off the transit system is part of a plea deal or sentencing for those convicted at trial. "The only way we can do that effectively is keep track of who these people are and maintain a record of what is going on," he said.
"It's a necessity that the MTA do this on the behalf of this riding public and our employees," Cappelli added. "We know who these people are, and it behooves us as an agency to push to ensure that our public is protected in the future." MTA spokesman Kevin Ortiz told Daily Intelligencer that the agency is taking that goal into account and "actively trying to figure out how to achieve it."
The MTA has discussed such measures in the past, and NYPD commissioner Bill Bratton even suggested banning repeat subway criminals earlier this month. "Some of the career recidivist criminals use the subways to prey on victims," the commissioner said. "We must find some way of excluding them from the subways as a condition of their parole."
There are still legal questions at play, however. A Daily News report based off NYPD data lists about 70 subway perps who are barred from underground transit. If an offender violates that order, usually a term of probation or parole, he can't get arrested for merely being on the train; as long as he's not actively doing something else illegal, he'll get reported to probation or a parole officer. The new measure wants to make it an actual crime for those people to enter the subway system, so police can step in and arrest them straightaway.