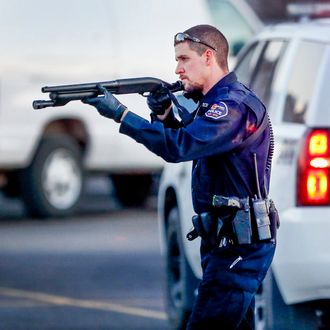 Police go through the parking lot of Excel Industries in Hesston, Kansas.
Photo: Fernando Salazar/Wichita Eagle via Getty Images
The mass shooter in central Kansas who killed three people and injured 14 others on Thursday before being shot dead by the authorities had been served a restraining order a little more than an hour before he went on a bloody rampage at a manufacturing plant.
Cedric Larry Ford, 38, began his shooting spree around 5 p.m. local time in Newton, Kansas, where he resided. Harvey County sheriff T. Walton told reporters Friday that, about 90 minutes earlier, cops had delivered an order of protection to Ford, intended to keep him away from an ex-girlfriend. Walton said Ford was "upset" when he received the order, but no more than "anyone else would be," reports KWTV. Authorities now believe this may have set Ford off. 
Ford first shot and injured at least two people while driving to the building of Excel Industries, a lawn-mower manufacturer in nearby Hesston where Ford was employed. One person was shot in the shoulder in his truck; the other was wounded in the leg at a different location. When Ford arrived at Excel Industries, he opened fire in the parking lot. He shot one person before entering the building to continue his rampage. More than 150 employees were at the plant when Ford began blasting bullets. 
"He chased some office people," one Excel employee told local station KAKE. "He just started spraying everybody in the production area." Witnesses and authorities both said Ford fired with an "assault-style weapon," and cops said he also had a semiautomatic pistol. 
According to Sheriff Walton, a single police officer arrived on the scene 26 minutes after the first shooting was reported and killed Ford in a firefight.
In a news conference Thursday evening, Walton said there were "a number of crime scenes involved," including Excel Industries as well as the parking lot and two other areas near the plant. Cops and SWAT teams also surrounded the gunman's mobile home Thursday night. At first authorities believed a roommate was inside, but the home turned out to be empty. Police are waiting for a search warrant. 
The Excel plant shut down Friday for the investigation, and management set up a hotline for employees. Excel is one of the primary employers in the area around Hesston, home to about 4,000 people, reports the Times. "Lots of families work there," a former plant employee, who has a brother and cousin who still work at the company, told the Times. "They are pretty shook up. My cousin that works there, his wife's cousin works there as well, and was shot in the head. And my brother won't talk to anyone."
Local news station KWCH identified Ford earlier Thursday evening as a painter at Excel with a 20-year rap sheet including burglary, grand theft, fleeing and eluding, and other charges. KWCH also found pictures and video of Ford wielding guns, including what looks like an assault rifle, on his Facebook page. He posted his last update, according to USA Today, on Tuesday. He linked to a Drake song and wrote: "Woke up this morning vibing God is good."
This post has been updated throughout.