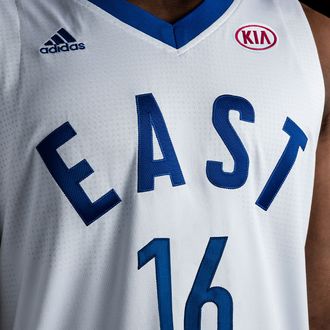 This year's NBA All-Star jerseys will include an ad for Kia.
Photo: Adidas
NBA commissioner Adam Silver has said it's "inevitable" that the league will one day put advertisements on jerseys. Doing so would give the league a lucrative new revenue stream, but it would also upset traditionalists who believe that sponsors' logos have no place on a team's uniforms. The league has already taken small steps in that direction — an ad for Kia will appear on the jerseys in Sunday's All-Star Game — and now it appears the league is inching closer to allowing ads on individual teams' jerseys as well.
ESPN reports that the league sent a memo to teams in advance of an owners' meeting Sunday, where the topic is expected to be discussed. The league's planning committee is seeking comments from teams to determine if it will be on the agenda at the April Board of Governors meeting, at which point it could be voted on.
But the proposal is far enough along now that is has specifics: Teams would be allowed to sell one ad, measuring two and a half by two and a half inches, on the upper left chest, beginning in 2017–18. Perhaps more important is that it includes a method for how all that money — Silver once suggested jersey ads could bring in, conservatively, $100 million a year — would be divided. Each team would keep half of the money from selling the ad on its uniform, and half would go into a revenue-sharing pot. As uniform columnist Paul Lukas notes, such a system could solve one of the big internal issues with jersey ads: the disparity between what big-market and small-market teams could sell them for.
Jersey ads are the norm in sports leagues around the world, and they also can be found in some American leagues, like the WNBA and MLS. But if the NBA approves the ads this spring, it would become the first of the "big four" North American pro-sports leagues to do so. It could also open the floodgates: NHL commissioner Gary Bettman said last fall that the league wasn't considering jersey ads, but seemed to leave the door open if another of the big four leagues did it. "We certainly won't be the first," he said. "And you'd have to drag me kicking and screaming." Once NBA teams start bringing in millions of dollars in additional revenue, he — and the commissioners of baseball and the NFL — might be tempted to join in as well.