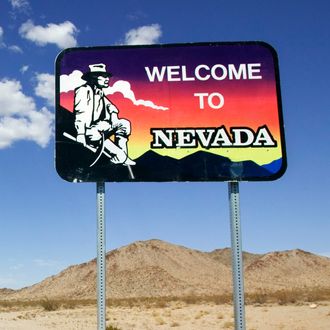 Nevada's Wild West caucuses are typically hard to figure out.
Photo: Corbis
If this is your first presidential nominating cycle, you may well wonder why one of the first four contests — third for Democrats, who hold their caucuses on February 20, and fourth for Republicans, who assemble on February 23 — is getting relatively little attention compared to its companions in the group of early states with a calendar priority that's protected by the national parties. Nevada is an unusual state with unusual caucuses and thus is an odd duck to hunt down.
On Wednesday CNN/ORC released one of the few published polls of likely Republican and Democratic caucusgoers. It was a small-sample, high-margin-of-error survey of a notoriously difficult-to-poll state with a highly transient population and low landline usage. The Democratic poll showed Hillary Clinton and Bernie Sanders virtually tied, but with insufficient data to measure most subcategories of voters, including the Latino and African-American voters that are of great interest after nearly all-white Iowa and New Hampshire. Among Republicans, Donald Trump has a lead so large — 45 percent, with 19 percent for Rubio and 17 percent for Cruz — that the poll's limitations don't prevent the conclusion that Nevada is definitely Trump Country.  
One problem with figuring out what's happening in this state is that there's little history to use in determining any individual's likelihood to caucus. Nevada caucuses (and sometimes primaries) were low-profile affairs until Harry Reid and other influential boosters of the state convinced first Democrats and then Republicans they needed a western and more diverse site in the early contests. And so, in 2008, Nevada joined South Carolina in slipping past the velvet rope that had long separated Iowa and New Hampshire from other caucuses and primaries. 
Since then, there's been one competitive Democratic caucus and two competitive Republican caucuses. 
The former was a close race between Hillary Clinton and Barack Obama that was generally thought to illustrate Clinton's popularity among Latinos and Obama's organizational strength. But it provides only a rough idea of who might show up this year — particularly since Nevada Democrats (unlike Republicans, who have an earlier registration cutoff) allow voters to register or reregister as Democrats at caucus sites. Another Democratic wrinkle is that "at-large" caucus sites will be set up in major Las Vegas casinos so that night-shift workers can participate. This is a concession to the powerful Culinary Workers Union that represents casino employees. In 2008 this union endorsed Obama; this time around it's neutral. It's unclear what, if any, impact that might have on turnout. Finally, as in Iowa, Nevada Democrats do not technically vote for a candidate — they divide into "preference groups" and must overcome viability thresholds. With only two major candidates remaining, the dance of first and second "alignments" won't be a factor, but there will be separate reporting of raw votes cast and county delegates elected, which means you can have two separate winners, as happened in 2008. (By contrast, Nevada Republicans, like Iowa Republicans, have a candidate-preference straw poll.) 
Polling aside, we do know that Clinton and Sanders are heading into Nevada with some strengths. Aside from the Culinary Workers, Clinton has most of the heavy labor support (SEIU, AFSCME, AFT), and also benefits from her 2008 experience, when current national campaign manager Robby Mook was credited with a better-than-expected Nevada performance. Sanders has his momentum from New Hampshire, some local and regional Latino backing (one of his two congressional backers, Representative Raúl Grijalva of Arizona, has been campaigning for him in Nevada), his entire Iowa organization, and some heavy late advertising. Also working in his favor is the undisguised media interest in the story line that his white-hot youth support and growing strength among white working-class voters will, beginning in Nevada, start to melt away Clinton's sizable advantage with minority voters, perhaps leading to further upsets down the line.  
Among Republicans the peculiar variable is that in both 2008 and 2012 Mitt Romney's candidacy drove an outsize turnout from Romney's fellow Church of Jesus Christ of Latter-day Saints members, who compose only 4 percent of Nevada's population but represented about a quarter of GOP caucus participants in those years. Nobody expects LDS turnout to be that high this year, but Marco Rubio and Jeb Bush have devoted a lot of time and attention to recruiting Mormon opinion-leaders in the state. Bush managed to hire the people who ran Romney's 2012 campaign there, but if the new CNN survey is any indication (Jeb's at one percent), he's going nowhere fast. Rubio has the unique advantage of having been a Nevada Mormon during his childhood years in Las Vegas before his family moved to South Florida and resumed its ancestral Catholic affiliation.
Beyond the LDS factor, Donald Trump has long been a familiar figure in Las Vegas with a hotel on the Strip and a Vegas-style personality. Aside from the new CNN survey, he's led the smattering of polls that have been taken in the state since he entered the race. Ted Cruz here as elsewhere is the favorite of movement conservatives, and he won the richly symbolic backing of Attorney General Adam Laxalt, who is at the same time an "anti-Establishment" figure in the state and the grandson of former Nevada governor and senator Paul Laxalt, a local potentate and also one of Ronald Reagan's best friends.
There are so many variables interacting that it's not surprising predictions are rare outside the campaigns. But you get the sense that once Nevadans have caucused on Saturday (Democrats) and next Tuesday (Republicans), the body of knowledge we have about this state's political behavior in the nomination process will have doubled.