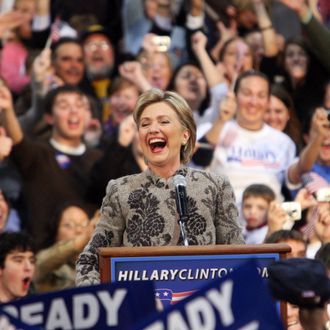 Hillary Clinton in 2008 was only the most recent of many upset winners in New Hampshire over the years.
Photo: Stan Honda/AFP/Getty Images
Before Saturday night, it appeared the only suspense surrounding the 2016 New Hampshire primary involved the margins by which Donald Trump and Bernie Sanders would win their respective contests, and the possibility that all three governors chasing Marco Rubio might drop out of the race altogether after trailing him again.
Of course, Rubio managed to jettison some or all of his momentum in Saturday night's debate — but any sense of certainty in the punditocracy was probably illusory anyway. It's important to remember that New Hampshire has a long and sometimes self-consciously perverse history of upsetting the conventional wisdom about what will happen in the primary.
The Granite State has a long tradition of thumbing its nose at the preferences of Iowa, its first-in-the-nation twin. The last time the New Hampshire Democrats voted for the same candidate in a competitive primary was in 2000 with Al Gore; you have to go back to 1992 to find a similarly harmonious early state outcome for Republicans. But high-impact results in New Hampshire go all the way back to 1952, when voters there were first allowed to directly vote for candidates rather than just delegates. President Harry Truman's ambitions for a second full term expired when he lost to crowd-pleasing Tennessee senator Estes Kefauver. (Truman's successor Dwight D. Eisenhower, meanwhile, began his climb to the White House by beating "Mr. Republican" Robert Taft.)
In 1964, Republicans surprised probably even themselves by giving a write-in candidacy on behalf of ambassador to South Vietnam (and former Massachusetts senator) Henry Cabot Lodge a victory over Nelson Rockefeller and Barry Goldwater. In 1968, Democrats showed that meeting expectations could matter as much as an order of finish, as President Lyndon Johnson was all but pushed out of a reelection race by a shockingly narrow victory over Gene McCarthy. The same thing happened to 1972 Democratic front-runner Ed Muskie, who underperformed in a win over eventual nominee George McGovern (one of two consecutive long-shot Democrats to be lifted into contention by New Hampshire, the other being Jimmy Carter in 1976). The reverse phenomenon occurred in 1992, when Bill Clinton became the "comeback kid" with a better-than-expected second-place finish immediately following the Gennifer Flowers scandal. 
Local factors have sometimes been big in New Hampshire, as in 1976, when Ronald Reagan lost to Gerald Ford almost certainly because his conservative-pleasing proposal to devolve welfare programs to the states was troubling to voters in a place with no state income or sales taxes. In 1988, Iowa winner Bob Dole also stumbled over the state GOP's phobia about taxes by refusing to sign Grover Norquist's no-tax-increase pledge (which Poppy Bush, who was upset by Reagan in New Hampshire in 1980 by being outflanked on the right, signed with alacrity). Dole was really snake-bit in New Hampshire: In 1996, the year he did win the nomination, he was upset by Pat Buchanan there. 
Other famous upsets that thwarted the plans of heavy national front-runners (costing them time and many millions of dollars, though not the nomination) include Fritz Mondale in 1984 (beaten by McGovern's former campaign manager Gary Hart), George W. Bush in 2000 (trounced by John McCain despite endorsements from virtually the entire GOP and conservative-movement Establishments), and of course Barack Obama in 2008. Had he won New Hampshire that year, as every poll predicted, the long drawn-out nomination contest with Hillary Clinton would have probably ended before it started. 
Another HRC shocker in the Granite State seems most unlikely; Bernie Sanders has the national underdog mojo going for him this time around, along with local celebrity. But upsetting the apple cart of the GOP betting-favorite Rubio, if that happens, would be enough to keep the state's impish reputation for unpredictability alive.