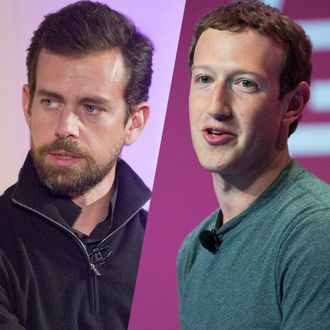 ISIS now hates Facebook and Twitter too.
Photo: Getty Images
ISIS has put out another threatening video, this one showing photos of Facebook founder Mark Zuckerberg and Twitter co-founder Jack Dorsey shot through with bullets. The 25-minute attack ad, posted on Wednesday and discovered by Vocativ on the messaging network Telegram, promises that ISIS hackers are seeking retribution after the companies promised to purge their communities of terrorist accounts. 
The video, titled "Flames of the Supporters" and put together by a group calling itself the Sons of the Caliphate Army, shows ISIS members allegedly hacking Facebook and Twitter accounts by changing profile pictures and posting ISIS propaganda. "You announce daily that you suspend many of our accounts, and to you we say: Is that all you can do? You are not in our league," reads text that Vocativ pulled from the video. "If you close one account we will take 10 in return and soon your names will be erased after we delete your sites, Allah willing, and will know that we say is true." Twitter has promised to shut down 125,000 terror-linked accounts, and a George Washington University report published last week says that Twitter has helped limit the reach of ISIS rhetoric in recent months. (In 2014, Twitter's then-CEO, Dick Costolo, received death threats from ISIS after deleting accounts, and the group has also recommended that individual murderers go after Dorsey.) Facebook has also been vocal about its intent to shut down Islamic State profiles. In the video, the Sons of the Caliphate Army claims to have hacked more than 10,000 accounts on Facebook and 5,000 on Twitter. ISIS has moved its operation over to platforms like Telegram in response to the crackdowns.