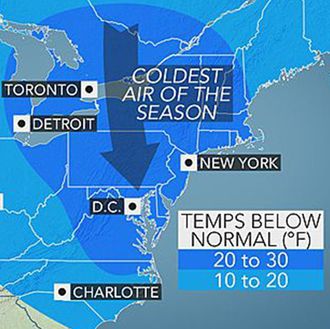 Oh my gosh, are you ready? It's time. Really freezing temperatures have finally descended upon New York, and that bitter chill will only worsen as the long weekend settles in. By Sunday, New York City will have suffered through the coldest weather of the season, and possibly break a few records along the way.
The polar vortex decided to get away from the Arctic for Presidents' Day weekend and pay a visit to most of the central and eastern United States. Over the past few years we've become acquainted with the polar vortex, which is supposed to retain the cold air up north in Canada. When that weakens, it shifts that cold air down to us, where we complain about it until it retreats back to where it belongs.
Temperatures will be 10 to 20 degrees below normal, says AccuWeather. New York City will see highs in the 20s on Friday and Saturday and the teens on Sunday. Let's reiterate: That's as warm as it's probably going to get. Morning lows on Sunday will be in the single digits and maybe below zero. New York and its suburbs might see the coldest February 14 temperatures in about a century. The record low for Valentine's Day in Central Park — set in 1916 — is two degrees. 
Parts of upstate New York will have it way worse than the metro area. Temperatures in the Catskills could hit negative 20 overnight on Saturday, and parts farther north may even see negative 30 — good news only to those who've always wanted to see boiling water freeze in midair. 
That's just what the thermometer says, and it is basically a liar because there will be a wind chill. Saturday night into Sunday you won't want to leave your apartment, because the wind will make it feel somewhere between negative 15 and negative 25 around the city. Farther north, it could feel like negative 40.
Fortunately for us, the cold snap won't last, and we'll be back to normal next week, though there's a possibility for some snow-rain combination on Monday and into Tuesday. At least the sun will be out all weekend, brightly and ruthlessly taunting you into believing the outdoors is bearable when it most surely is not. 
*This post has been updated to clarify that NYC will have the coldest February 14 in about a 100 years.