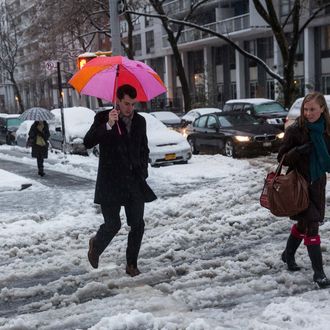 TGIF.
Photo: Andrew Burton/2014 Getty Images
Today you left your hat and gloves at home. And tomorrow? Snow is definitely on the way, and we're getting a sizable amount even earlier than expected.
The New York area could get up to four inches of snow, thanks to newly named Winter Storm Lexi. The nearby suburbs will probably get a bit more than the city, with up to six inches on eastern Long Island.
The accumulation totals don't sound too bad, considering the city got three feet of it a couple of weeks back, owing to the second-largest snowstorm in history. But that snowfall — and the accompanying slick and slushy conditions — will happen just about when you're getting ready for your soon-to-be-snarled morning commute.
Rain will start after midnight and change into snow as temperatures start to drop. It should be light overnight, picking up early in the morning and into rush hour. Guard the umbrellas, because there could also be wind gusts up to 30 miles per hour. And visibility? Don't count on seeing past a quarter-mile.
The snow should let up by the time you've weathered the subway and bus delays and are finally at your desk — sometime in the late morning or early afternoon, predicts New York Metro Weather. Expect the sun to peek through in the afternoon, too.
A winter weather advisory goes into effect Friday, and New York City has issued a snow alert, which means the sanders and salters will soon be out in full force, and their drivers will probably be terrified of making eye contact with people in Queens.