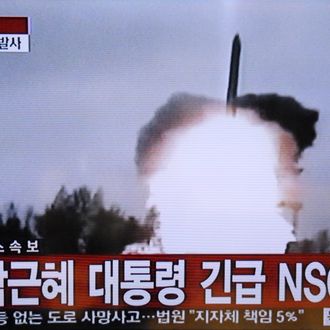 Video of the launch was shown on North Korean state television.
Photo: Jiang Ye/Xinhua Press/Corbis
North Korea launched a long-range rocket on Sunday morning, which the country says was to get an earth observation satellite into orbit as part of their space program, but world powers aren't buying that story, seeing the launch instead as a long-range ballistic missile test and an act of aggression in violation of UN Security Council resolutions. The U.S., South Korea, Japan, China, Russia, France, and Britain have all condemned the act, and as requested by the U.S., Japan, and South Korea, there will be an emergency meeting of the UN Security Council on Sunday, and some kind of international response to the launch seems likely. There are also now renewed calls in South Korea to deploy a missile defense system
According to CNN, South Korean intelligence believes that the launch may have been timed to coincide with the Super Bowl and Lunar New Year in order to gain maximum media coverage. The launch also comes after the country's fourth nuclear test, on January 6, which was also widely condemned and violated UN Security Council resolutions. North Korea said they tested a more powerful hydrogen bomb for the first time on that day, but most nuclear weapons experts doubt that claim. North Korea had previously launched a satellite into orbit in 2012, after several failed attempts, though it's not clear if that satellite is actually functional or not.
According to the Associated Press, it seems unlikely that North Korea yet has the capability to launch a missile with a nuclear warhead to strike the mainland U.S., though that seems to be the capability they are trying to develop. The isolated nation is believed to have as many as 100 nuclear weapons, but without advanced delivery mechanisms.