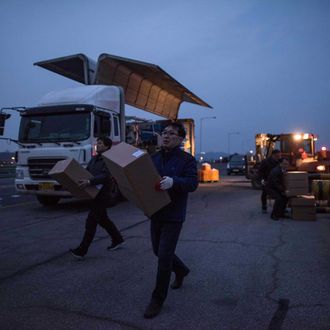 South Koreans left the complex in trucks.
Photo: Ed jones/AFP/Getty Images
North Korea must really hate K-pop. After South Korea punished its estranged neighbor for allegedly testing a hydrogen bomb by deafening its border patrols with Hot 100 hits, North Korea struck back by launching a long-range rocket on Sunday, triggering a United Nations Security Council meeting and unnerving everyone else. South Korea responded to the rocket launch by announcing it would suspend operations at the jointly run Kaesong industrial complex, a series of factories where North and South Korean workers labor side by side in a gesture of cooperation. North Korea called the suspension a "dangerous act of war," and Thursday morning Pyongyang froze all South Korean assets at the complex and deported all 280 South Korean workers.
"From 10 p.m. on February 11, [the North] will seal off the industrial park and nearby military demarcation line, shut the western overland route and declare the park as a military off-limit zone," the Democratic People's Republic of Korea (DPRK, or North Korea's official name) said in a statement reported by the Korea Herald, calling Seoul's move a "provocative measure that is a declaration of an end to the last lifeline of South and North Korea."
A total of 124 South Korean firms run factories in the Kaesong industrial zone, and 55,000 North Korean factory workers are employed there — Pyongyang reportedly collects about $100 million in hard currency via Kaesong. On Wednesday evening an additional 130 South Koreans entered the zone to help their fellow southerners pack up, and trucks brought all of them back over the border within hours.
The zone has been shut down once before: in 2013, when North Korea took issue with a military drill performed by South Korea and the United States. It was reopened several months later, and both sides pledged the zone would not be "affected by political situations under any circumstances."