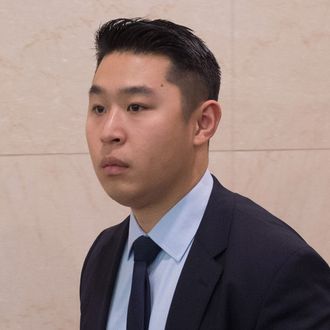 NYPD officer Peter Liang.
Photo: Bryan Smith/Zuma Press/Corbis
The trial of NYPD officer Peter Liang continued into its third week Monday, as Liang himself took the stand to testify. He faces a manslaughter charge because a bullet discharged from his gun hit and killed 28-year-old Akai Gurley in the stairwell of the Pink Houses, a public-housing complex in East New York, Brooklyn, because the elevator was out of service. 
Liang appeared upset on the stand, and the officer — basically a rookie on that night in November 2014 — broke down at one point as he recounted the events. His story differed from the prosecution's narrative in a few key details.  He doesn't deny that he had a gun in one hand — his fingers near the trigger — and a flashlight in the other as he and his partner ascended the pitch-black stairs. But he explains that he was on edge and had the gun out because he thought he might be in danger. When he heard a noise, he jumped, accidentally setting off his .9mm Glock pistol. "I heard something on my left side. It was a quick sound and it just startled me, and the gun just went off after I tensed up," Liang said Monday, under oath, explaining that he didn't know the bullet had hit anyone for four minutes.
Liang testified that he immediately freaked out because he knew he would need to report the accidental discharge to his superiors. He also admitted that he feared he'd be fired — a charge the state drilled home earlier in the trial to prove that Liang was more concerned about his welfare than that of a dying man. But Liang claims that although he had expressed concern about being fired, he only did so before he knew someone had been hit by the ricocheting round. He said he'd gone to retrieve the bullet when he heard commotion and then saw Gurley's girlfriend, Melissa Butler, hysterical and bending over a bloodied body.
"'Oh my god, someone is hit!'" he said he cried out."I went over the radio, 'Pink Post One, male shot, call a bus.'" According to the Times, the 911 transcripts don't have Liang requesting an ambulance for Gurley ("bus").
Earlier in the trial, Butler — Gurley's girlfriend and a key witness for the prosecution — had testified only that she had tried to perform CPR on her boyfriend. Pink Houses resident and witness Melissa Lopez had also said early in the trial that Liang and his partner, Shaun Landau, had done nothing to help the dying man. Landau, who was forced to testify last week, also admitted that neither he nor Liang tried to revive Gurley at the scene, though they called for medical help. "Peter was in shock," Landau testified last week. "He couldn't believe he just shot someone."
The prosecution is arguing that Liang acted dangerously, carelessly, and unprofessionally by having his gun out and loaded in the dark corridor, and that he didn't do enough to help Gurley. Liang's defense team, on the other hand, is building the case that the cop had no choice but to take out his gun because he and his partner were on a difficult and dangerous "vertical patrol" in a public-housing complex.
Liang's testimony comes less than a week after two cops were shot during another patrol in a stairwell of a Bronx public-housing unit. The judge in Liang's case has ruled that the cop's defense team cannot bring up recent incidents like this to bolster their case.