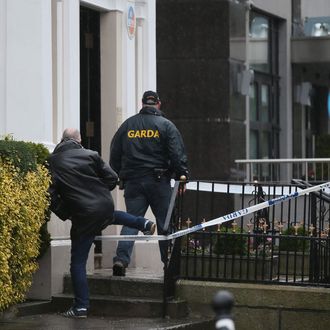 The Regency hotel in Dublin.
Photo: Niall Carson/PA Wire/AP
Several gunmen dressed as gardaí, or Irish national police, opened fire at a boxing weigh-in in Dublin around 2:30 p.m., killing one man and injuring two others, and causing most of the assembled crowd to flee into the restrooms. According to the BBC, the gunmen were armed with AK-47s and fired into the crowd at Dublin's Regency Hotel before fleeing the scene. The weigh-in was reportedly in preparation for Saturday night's "Clash of Clans" championship, hosted by boxing gym MGM. The Irish channel BoxNation was supposed to air the event live, but it's been (fittingly) canceled.
One victim was pronounced dead at the scene, and the other two were taken to Mater and Beaumont hospitals; all three were men in their 20s and 30s. The hotel has been sealed off, but police have no further information on the shooters, although at least one Irish journalist has said the incident was gang-related.
Officials are requesting that anyone with information contact them via the station's hotline. Saturday's fight was supposed to feature a match between Jamie Kavanagh and Antonio Joao Bento for the title of WBO European lightweight.