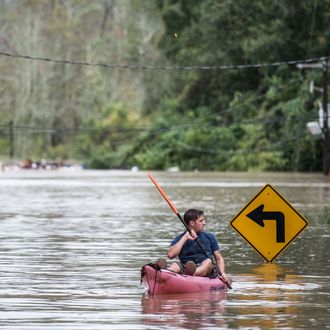 Hurricane Joaquin.
Photo: Sean Rayford/Getty Images
The worst of this year's historic El Niño may be behind us. Scientists with the United Nations World Meteorological Organization are now saying that the weather phenomenon has "passed its peak" — which doesn't mean the weather havoc is over. The U.N. scientists echoed what meteorologists have said all along: This El Niño is definitely one of the strongest on record. But whether it lives up to "Godzilla" predictions and ends up being the most powerful of the El Niños is yet to be determined. Scientists measure El Niño by tracking the temperatures in equatorial waters in the Pacific Ocean. As of the end of 2015, this El Niño is tied with that of 1997–98, the record-holder since meteorologists began tracking the pattern in 1950.
It's been especially tough on poorer parts of the world. Drought and unpredictable rains have crippled already struggling nations. Parts of Africa, Latin America, and Asia are dealing with extreme food and water shortages, contaminated water supplies, and the diseases that accompany those kinds of disasters, such as cholera and mosquito-borne viruses like Zika. Those countries are witnessing an increased demand for food aid, and UNICEF said this week that about 1 million kids are suffering from severe malnutrition because of El Niño's devastation. 
Meanwhile, the heavy rains that were supposed to ease California's oppressive drought haven't really arrived, and the southern part of the state is in the midst of still another big dry spell. But even an El Niño past its prime is sure to dump some more extreme weather on the U.S.— and just about everywhere else.