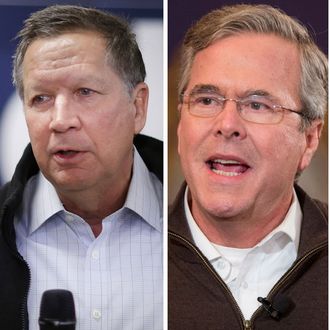 According to Politico Jeb Bush is plunging his rivals into a bloodbath!
Photo: Getty Images
I can't vouch for other readers, but the headline ("Bush plans scorched-earth attack on Kasich, Rubio") and the lede of an Alex Isenstadt piece at Politico today got this droogie all primed for some political ultraviolence:
Jeb Bush is already laying the groundwork for a brutal South Carolina campaign against establishment rivals John Kasich and Marco Rubio.

In an internal memo circulated late Tuesday evening, the campaign distributed talking points to top campaign aides and surrogates, highlighting lines of attack they plan to take against both candidates.
Maybe Right to Rise is finally unleashing the "carpet-bombing" of other candidates that Mike Murphy has been intermittently threatening for a good while! What will the Bushies go after? Did Rubio bounce a lot of checks at the liquor store back in the day? Did Kasich abuse his congressional office budget? Did either of them employ an undocumented immigrant? 
Here it is, in all its raw, brutal power. Don't let the kiddies read this:

The memo suggests that Kasich, who campaigned extensively in New Hampshire, does not have a realistic path to winning the Republican nomination.

"Governor Kasich has little to no chance in South Carolina, and does not have a national organization that can compete," the memo says. "Kasich has consistently supported gutting the military and has no viable path in the Palmetto State."

The memo also outlines hard-hitting avenues of attack against Rubio, who for months has been in Bush's crosshairs: "Senator Rubio has lost momentum and has been exposed as completely unprepared to be president," it says, repeating an argument that Bush has used frequently against Rubio.

It adds: "Rubio has demonstrated no respect for the nomination process and expects this to be a coronation."
Wow. Kasich's not electable. Rubio's lost momentum and, worse yet, has disrespected the nomination process. If this is a "scorched earth" message, it has to be the lowest-energy "scorched earth" message in history. 
We have no way of knowing whether this is Isenstadt's doing or that of his editors, though I'd guess it's the latter given other story lines in Politico Wednesday alluding to South Carolina as a "bloodbath" and a "knife fight." 
Suppose somebody gave a bloodbath and nobody noticed? It could happen in South Carolina between now and February 20.