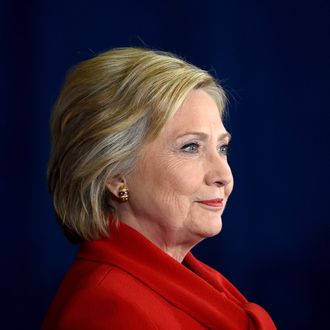 Photo: Ethan Miller/Getty Images
The poll harvest was bountiful Wednesday morning. Three days before Republicans cast their ballots in South Carolina and Democrats get caucusing in Nevada, a slew of new surveys illuminates the contours of each party's race. Here are four key takeaways:
1. Hillary Clinton's "firewall" is containing the Bern.
The former secretary of State leads Bernie Sanders in 10 of the 12 March primaries, according to a new batch of surveys by Public Policy Polling. Clinton's advantage, which runs to double digits in all but one of those ten states, is the product of her outsize support among African-American voters.
Clinton also enjoys an overwhelming lead in South Carolina, where one recent poll has her winning the black vote by nearly 40 points.
After Sanders tied Clinton in Iowa and then shellacked her in New Hampshire, the Democratic front-runner's campaign has touted its strength among nonwhite voters as a "firewall," one that would place a hard limit on Sanders's support. PPP's polls appear to confirm this claim, no matter how many "Cracks emerge in Clinton's firewall" stories say otherwise.
2. Or maybe that firewall isn't containing the Bern?
A new CNN/ORC poll shows the two Democrats virtually tied in Nevada, with white and nonwhite voters evenly split between the two candidates. What's more, a national poll from Quinnipiac shows Sanders trailing Clinton by a mere 2 points, while the Vermont senator gained 11 points in Suffolk University's latest national survey.
Analyzing recent data from both Quinnipiac and Gallup, the Washington Post's Philip Bump notes that while black voters view Sanders with some antipathy, "Hispanics view him about as positively as do whites."
Still, Sanders's growing stature nationally appears to be built primarily off of gains with white and female voters. Quinnipiac's survey shows Sanders leading 50 to 38 percent among white voters, but trailing by 25 points among nonwhite voters. That isn't where the democratic socialist needs to be when the heavily African-American electorate of the Super Tuesday states goes to the polls next month. Even if Sanders is cutting into Clinton's advantages with women and Hispanics, he has no path to victory unless he drastically increases his standing with black people.
3. Jeb Bush is the candidate of the one percent — literally.
That CNN poll of Nevada shows Jeb(!) polling at one percent. In Quinnipiac's national poll he takes 4 percent. Most polls of South Carolina put the former Florida governor in the single digits. If you're wondering whether Donald Trump resisted the urge to kick Bush while he's down, then welcome back from whatever cave you've been hiding in.
By all appearances, Jeb will have a lot more time to spend with his gun come April. But it's not clear how much his exit would impact the race at this point. It's not like he has much support to pledge. Presumably, Rubio stands to benefit from Bush's descent into obscurity, but Ted Cruz's strength with Evangelicals should keep this a three-man race, at minimum, for months to come.
4. The Donald still trumps the GOP Field.
The latest polls show Trump leading Nevada by 26 points, while he nearly doubles his closest competitors' support in South Carolina and nationally. Cruz and Rubio remain in a dead heat for a distant second. In South Carolina, Monmouth has Cruz besting Rubio 19 to 17 percent, while Quinnipiac has Rubio ahead 19 to 18 percent nationally.
Regardless, Suffolk finds that Trump is the first or second choice of 44 percent of GOP voters nationwide, and Rubio and Cruz of 40 percent each. By the time the field winnows to three, Trump will almost certainly be way ahead in the delegate count. Thus, as long as he stays competitive in a three-man race with Cruz and Rubio — and all current evidence suggests he will — it's hard to see how Trump doesn't win this thing.