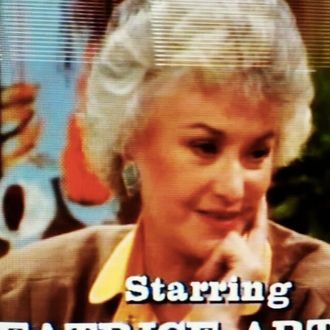 Back in November, a guy who goes by Finally Aaron "lost it a little bit" and sang his own gospel remix of the Golden Girls theme song, "Thank You for Being a Friend," ad-libbing vocal flourishes and generally getting as excited as anyone has ever gotten over an '80s TV theme tune. The 15-second snippet he put on Instagram burned with the heat of a thousand fire emoji, and the streets (of the internet) demanded more.
Months later, Finally Aaron has finally delivered his biggest gift: He did the whole song.
"I've warned many people that this would be UNDERWHELMING..buuut Its the full song..its finished," he wrote on YouTube. "LIKE IT OR NOT ..im just glad I kept my word lol!"
I think Aaron may have underestimated how much people wanted him to do this. Do these folks seem underwhelmed to you? Nah.
I LIVE ON THIS DAY! https://t.co/Y6y4OTZjKD

— ThankU4BeinAFriend (@Honey_Shade) February 12, 2016

Yall really don't understand the joy this brings me 😂 https://t.co/qG14YCuinB

— mommie. (@ImCandiceTho) February 12, 2016

Got this on repeat. https://t.co/0x4Omg386Z

— Sofia Quintero (@sofiaquintero) February 12, 2016

.@DreGeauX THIS IS THE GREATEST THING EVER!!!! https://t.co/MjwAgTJHZO pic.twitter.com/IlJvQdsmsz

—

ME

-2187 (@Amour707) February 12, 2016

This bout to be an MP3 and my alarm RT @TylerIAm: Golden Girls Gospel Remix (Full Song) https://t.co/aBaKaRfxWa via @YouTube

— Qwantin Tarentino (@YoungQwan) February 12,

 

2016

Thank you for being a friend, Aaron.