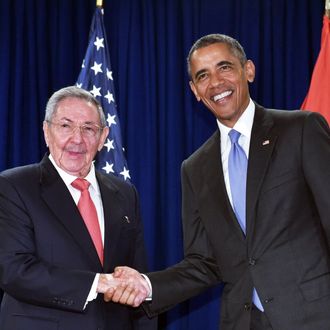 Obama shaking hands with Cuban President Raul Castro in September.
Photo: Mandel Ngan/AFP/Getty Images
President Obama's real motivation for restoring diplomatic relations with Cuba is becoming more apparent. ABC News reports that the president will travel to Cuba next month for a relaxing vacation important diplomatic trip. Sources say Obama will visit the country from March 21 to 22, before heading to Argentina, marking the first time a sitting U.S. president has set foot in the island nation since Calvin Coolidge's trip in 1928. The visit is part of a larger Latin American trip, which will be formally unveiled on Thursday.
Embassies in Washington and Havana were reopened last summer, and President Obama said in December that he would like to visit Cuba before leaving office, if certain conditions could be met. "If I go on a visit, then part of the deal is that I get to talk to everybody," he said. "I've made very clear in my conversations directly with President [Raul] Castro that we would continue to reach out to those who want to broaden the scope for, you know, free expression inside of Cuba."
Though the White House has yet to say what the visit will entail, the trip has already been criticized by two GOP presidential candidates. During a CNN town hall on Wednesday night, Marco Rubio said he would not visit the nation as president "if it's not a free Cuba." "A year and two months after the opening of Cuba, the Cuban government remains as oppressive. Now they have access to millions if not billions in resources they didn't have access to," Rubio said.
At the same event, Ted Cruz said he would never visit while the Castros were still in power, and revealed that Obama is going "to essentially act as an apologist." We're guessing that's not how the White House will phrase it.