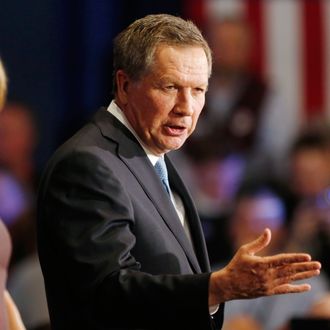 Ladies should go make the governor a sandwich … if they agree with his ostensibly moderate Republicanism.
Photo: Dominick Reuter/AFP/Getty Images
John Kasich pulled off quite a feat on Monday, managing to somehow both take credit for women's liberation, and be totally sexist. While on the campaign trail in Virginia, Kasich was telling a story about an early campaign he ran for the Ohio statehouse in the '70s when he described the "many women, who left their kitchens to go out and go door-to-door and to put yard signs up for me."
By the end of the day the presidential-still-hopeful-for-some-reason had apologized for his remarks, though he suggested he still doesn't understand why everyone got their panties in a bunch.
"I'm more than happy to say I'm sorry, if I offended somebody out there, but it wasn't intended to be offensive," Kasich told CNN's Wolf Blitzer. He said his remark made sense in context, then added this old refuge of offensive men everywhere: "Everybody's just got to relax."
Even if Kasich didn't mean to suggest women should either be cooking up tasty treats or campaigning for him, his remarks came just days after he cut off all funding for Planned Parenthood in his state. In fact, the supporter who took umbrage with Kasich's characterization during Monday's event — telling the governor, "I'll come to support you, but I won't be coming out of the kitchen" — went on to ask a pointed question about Planned Parenthood. Kasich said Ohio does provide "robust funding for women's health," but it shouldn't "be captive to delivering it through an organization that has largely discredited itself."

So, to recap, John Kasich does not think women belong in the kitchen. He just thinks it's his job to limit their access to affordable preventative health care.