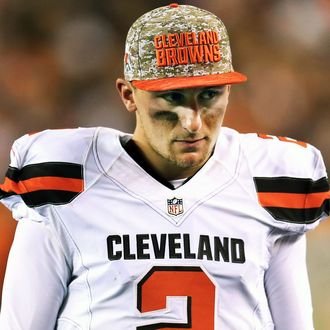 Johnny Manziel reportedly won't be a Cleveland Brown for much longer.
Photo: Andrew Weber/Getty Images
It appears Johnny Manziel is out of chances in Cleveland. A source tells ESPN's Pat McManamon that Manziel's time with the Browns will come to an end in March, when the new league year officially begins. Earlier Tuesday, Cleveland's director of football operations Sashi Brown released a statement that stopped short of saying he'd be cut, but was critical of the quarterback following an incident this weekend in which Fort Worth police officers were dispatched to investigate whether an altercation between Manziel and an ex-girlfriend included a "possible assault," according to the department's report. Said Brown in the statement: "We've been clear about expectations for our players on and off the field. Johnny's continual involvement in incidents that run counter to those expectations undermines the hard work of his teammates and the reputation of our organization."
Manziel was not arrested as part of the investigation this weekend, but the woman told police that she'd been involved in a disturbance with Manziel earlier in the evening in Dallas. Fort Worth police said they were "actively working with Dallas PD to determine if a criminal offense occurred."
The Browns had reportedly been increasingly concerned about Manziel even before this weekend. Last month, he was reportedly spotted in disguise in Las Vegas the night before missing a scheduled appointment in Ohio on the day of the team's final game of the season. (Manziel had been diagnosed with a concussion during the team's penultimate game of the year and wasn't going to play in the finale.)
Here's the full statement by Brown:
The Browns could try to trade Manziel, but finding an interested team could be difficult, given his off-field issues. If they want to release him, because of the league's salary-cap rules, they'll need to wait until March 9, when the new NFL year begins and the salary cap goes up in advance of the 2016 season.