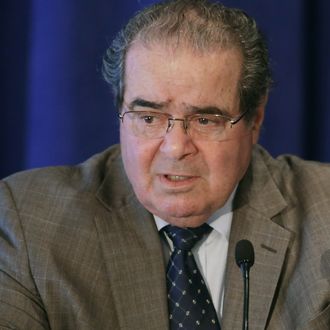 Antonin Scalia, 1936–2016.
Photo: Chip Somodevilla/Getty Images
Associate U.S. Supreme Court Justice Antonin Scalia has died at the age of 79, according to the San Antonio Express-News. He had been staying at a resort called the Cibolo Creek Ranch near the West Texas city of Marfa, and was found dead in his room Saturday morning after not showing up for breakfast. Texas governor Greg Abbott has released a statement confirming the news and calling Scalia "a man of God, a patriot and an unwavering defender of the written Constitution and the Rule of Law." The New York Times reports that the cause of Scalia's death has not yet been released, but CNN heard from a government official who said that Justice Scalia had told friends he wasn't feeling well before going to sleep Friday night. The reason he was staying at the resort was to go on a group hunting trip.
Scalia, who joined the court in 1986, was a champion of conservative legal interpretation, and was instrumental in transforming the Court, driven by his belief in "originalism" — that judges should review laws based on the precise words of the Constitution. The Court's second-oldest and longest-serving member, Scalia was also a firebrand of controversy during his routinely combative time on the Court, particularly among liberals for his outspoken opposition to affirmative action, abortion, and marriage equality. Justice Scalia, who grew up in New York, was also the first-ever Italian-American on the Supreme Court.
His sudden death makes an already-hectic election year even more tumultuous, as most Republicans are already insisting that no replacement be nominated, or confirmed, until the next president is elected, and either way the GOP-controlled Senate would also control the confirmation process. Senate Majority Leader Mitch McConnell has indeed already released a statement calling for the vacancy to be filled by the next president, which would mean there would be a vacancy on the Court for a year or longer, something Democrats like Senator Harry Reid are already calling unacceptable. "Failing to fill this vacancy would be a shameful abdication of one of the Senate's most essential Constitutional responsibilities," Reid said in a statement. Hillary Clinton also spoke out on Saturday to reject GOP calls to delay Scalia's replacement, declaring that those who wish to leave the seat vacant "dishonor our Constitution. The Senate has a constitutional responsibility here that it cannot abdicate for partisan political reasons."
Also, regardless of which party controls the White House, control of the Senate will now become an even more important factor in this year's down-ticket elections as well.
Speaking on Saturday night, President Obama said he was sure that Scalia would be remembered "as one of the most consequential judges and thinkers on the Supreme Court," and also made it clear that he would indeed nominate a replacement for Scalia:
I plan to fulfill my constitutional responsibility to nominate a successor in due time. There will be plenty of time for me to do so and for the Senate to fulfill its responsibility to give that person a full hearing and timely vote.
There are also several contentious cases currently being reviewed by the Court and their outcomes will definitely be impacted by the absence of Scalia, whether a replacement is confirmed or not. Without a replacement, if the now-eight-person court splits on any case, the original lower-court ruling will be upheld and no precedent will be set.
This is a developing story and will be continuously updated as more information become available.