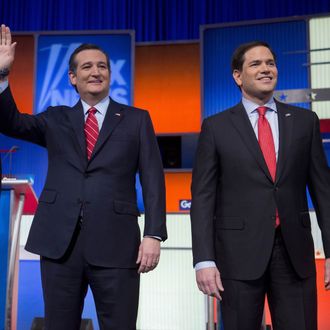 Ted Cruz and Marco Rubio.
Photo: Andrew Harrer/Bloomberg via Getty Images
The war over the Republican presidential nomination is being fought on many fronts: on the debate stage, on the ground in key states, and perhaps the most interesting battlefield of all: America's Facebook newsfeeds. And candidates seem willing to go to extremes to win that last one: This week, Marco Rubio's campaign accused Ted Cruz's operation of dishonest and deceptive meme warfare.
With the South Carolina primary looming, a Facebook post has been circulating that suggests South Carolina representative Trey Gowdy — the Republican chair of the Benghazi committee — has switched his endorsement from Rubio to Cruz. But Gowdy hasn't, The Wall Street Journal reports. He's still "one of Mr. Rubio's fiercest supporters who has appeared with him in close to a dozen events over the past several days."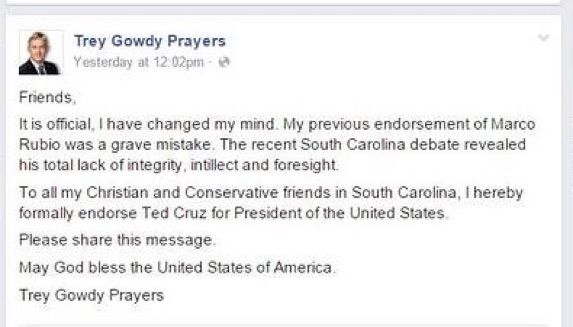 The fake post, from an account called Trey Gowdy Prayers — which has since been deleted — said, "My previous endorsement of Marco Rubio was a grave mistake," and "I hereby formally endorse Ted Cruz for President of the United States."
It was signed "Trey Gowdy Prayers," but it read like an official statement, and the profile photo for the page was a headshot of Gowdy. While it didn't explicitly claim to be a message from Gowdy, it's easy to see how it could be confusing.
According to the Journal, Rubio's campaign blames Cruz's "operatives" for spreading the deceptive post.
Gowdy also issued a statement condemning the post, and called it "a systematic effort by Senator Cruz and his allies to spread false information."
Cruz, whose campaign was also accused of deceiving Iowa voters into thinking that rival Ben Carson had dropped out of the race, responded to Gowdy on Twitter, writing, "Our campaign had absolutely nothing to do with this fraudulent Facebook post."