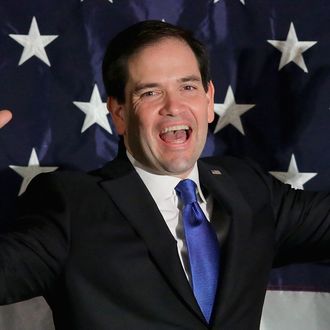 Marco Rubio now seems to see his path to the White House involving chaotic convention scenes like this one from 1968.
Photo: Chip Somodevilla/Getty Images; C-Span
Marco Rubio's poorly timed bad debate performance just as New Hampshire Republicans were making up their minds has already entered the annals of major blown political opportunities, certainly right up there with Barack Obama's failure to put away Hillary Clinton in the same state eight years ago. 
But it may be worse than we thought. In 2008 Obama had to look forward to a long string of primary and caucus contests before winning the prize that seemed so close after the Iowa caucuses. According to a report from the Associated Press's Steve Peoples, Team Rubio thinks it may take longer than that:
The best hope of the Republican establishment just a week ago, Marco Rubio suddenly faces a path to his party's presidential nomination that could require a brokered national convention.

That's according to Rubio's campaign manager, Terry Sullivan, who told The Associated Press that this week's disappointing performance in New Hampshire will extend the Republican nomination fight for another three months, if not longer. It's a worst-case scenario for Rubio and many Republican officials alike who hoped to avoid a prolonged and painful nomination fight in 2016.

"We very easily could be looking at May — or the convention," Sullivan said as Rubio's charter jet traveled from New Hampshire to South Carolina this week. "I would be surprised if it's not May or the convention."
Keep in mind that as calendar maven Josh Putnam has calculated, half of the total number of Republican delegates will be chosen by March 15, and three-fourths by April 26. So if the fight extends until May, yeah, we could be looking at a contested — the word brokered has never made much sense because it assumes the existence of "brokers" — convention. The funniest part of the Peoples piece, though, involves Rubio's warning that Republicans might want to get their act together before the general election is held:
[W]hile he called on his party to unite behind his candidacy Thursday in South Carolina, Rubio seemed to offer a broad definition of "quickly."

"If we don't' come together quickly, we can't win," he said. "If we are still fighting with each other in August, and September and October, we won't win."

The Republican Party holds its presidential nominating convention in July.
Now, for all I know Rubio and his people are just going the extra mile in lowering expectations before the next round of contests. Maybe the "brokered convention" talk is simply a matter of putting it all in a very long perspective if Marco finishes third or fourth in South Carolina and Nevada.   
But without question, serious talk about a "brokered convention" — the first contested GOP convention since 1976, and perhaps the first multi-ballot convention for either party since 1952 — is going to get the media all lathered up with excitement and ready for an insane scene in Cleveland. I mean, can you imagine? Rumors of a backroom deal between Trump and John Kasich to put the Ohioan on the ticket in exchange for the latter's handful of delegates. Rubio and Bush twisting arms and making threats to flip Florida once the legal obligation to follow the primary results expires. Dark-horse "unity" candidate reports ranging from Mitt Romney to Nikki Haley to Mitch Daniels. Game Change authors Mark Halperin and John Heilemann might ascend to heaven out of sheer joy. Politico could get its mojo back.
And, apparently, Marco Rubio could rediscover his path to the nomination.