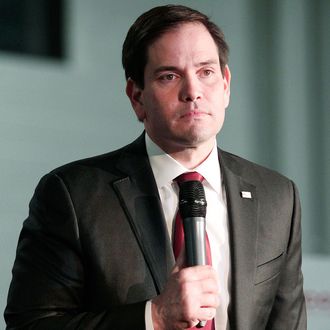 Winning.
Photo: Bill Pugliano/Getty Images
Marco Rubio may not be good at winning primary elections, but he's the all-time master of the expectations game. And since the "true winner" of the Republican nomination isn't determined by delegate count but by "news cycles won," the former Florida senator has this thing nearly locked up.
First, there was Rubio's triumph in Iowa, where he spun a third-place finish into a landslide victory. Then, by carefully sabotaging himself in New Hampshire, the senator set himself up for a second-place "win" in South Carolina. But Tuesday night in Nevada Rubio took his game to whole different level.
At first things didn't look so great for Marco — Donald Trump did beat him by 22 points in the state's caucus. But on Fox News Wednesday morning, Rubio revealed that drawing roughly half of Trump's support in Nevada was actually a come-from-behind win in the expectations game.
"Last time, Mitt Romney got over 50 percent, so Donald Trump actually underperformed [what] Mitt Romney did, not once but twice in this state," Rubio explained to Fox & Friends, referring to the 2008 and 2012 primary races.
Rubio is to spinning defeat as Steph Curry is to the three-pointer, and this was Marco's half-court shot.
THE FEED
inauguration liveblog
Biden Begins Enacting Pandemic Plan: Live Updates
Maybe Trump wasn't a good president?
Newly sworn in President Joe Biden and his advisers are inheriting no coronavirus vaccine distribution plan to speak of from the Trump administration, sources tell CNN, posing a significant challenge for the new White House.
The Biden administration has promised to try to turn the Covid-19 pandemic around and drastically speed up the pace of vaccinating Americans against the virus. But in the immediate hours following Biden being sworn into office on Wednesday, sources with direct knowledge of the new administration's Covid-related work told CNN one of the biggest shocks that the Biden team had to digest during the transition period was what they saw as a complete lack of a vaccine distribution strategy under former President Donald Trump, even weeks after multiple vaccines were approved for use in the United States.
"There is nothing for us to rework. We are going to have to build everything from scratch," one source said.
Another source described the moment that it became clear the Biden administration would have to essentially start from "square one" because there simply was no plan as: "Wow, just further affirmation of complete incompetence."
politics
Biden Will Run a Very Un-Waspy Government
2024 elections
Trump Won't Start a Third Party — But He Might Break the GOP
covid-19
What We're Not Telling the Public When They Get the Vaccine
president biden
What Did President Biden's Day-One Executive Orders Achieve?
biden inauguration
What It Was Like Attending a Distinctly Weird Inauguration
biden inauguration
Biden Touting Equality Is Anything But Routine
President Biden just signed an Executive Order rejoining the Paris Climate Accord
—
@JTHVerhovek
politics
History Suggests Democratic Trifecta Could Be Short-Lived
Another big moment from a big day
WASHINGTON (AP) — Democrats take Senate command as 3 new senators are sworn in, giving party control of White House, Congress
—
@ZekeJMiller
president biden
In Inaugural, Biden Calls for Unity (Against Trump's GOP)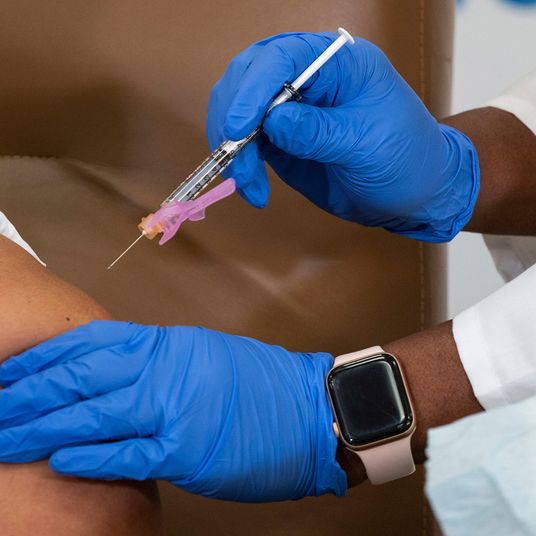 coronavirus vaccine
How to Sign Up for a COVID Vaccine in New York
"I'll be back … in a few weeks, for my second shot."
Today was a good day. I have never been happier to wait in a line. If you're eligible, join me and sign up to get your vaccine. Come with me if you want to live!
pic.twitter.com/xJi86qQNcm
—
@Schwarzenegger
Arnold Schwarzenegger
"Only Jesus with loaves and fishes could handle the situation that the federal government created," Cuomo said. "Because they created such a demand and they never increased the supply."
NEW: New York State has about 2 to 3 days of vaccine supplies left,
@NYGovCuomo
says, with the state receiving about 65,000 doses/day on average.
"It's going to be a week to week allocation situation," he says.
pic.twitter.com/d186ceufZ3
—
@luisferre
extremely online
Okay, You Can Unmute @POTUS Now
the national interest
Biden: 'We Must End This Uncivil War.' Here's What It Would Look Like.
inauguration day
Return to Normalcy With Some Bernie Sanders Memes
bye
Donald Trump Went Out As He Came in: Playing Songs by People Who Hate Him
we did it joe
Jennifer Lopez Slips 'Let's Get Loud' Into Her Biden Inauguration Performance
infrastructure
Trump Called Himself the 'Builder President.' But What Did He Actually Build?
inauguration day
Watch Lady Gaga Perform the National Anthem at the Biden Inauguration
inauguration day
Watch Amanda Gorman's Historic Poetry Reading at the Biden Inauguration
inauguration day
Garth Brooks Turns 'Amazing Grace' Into a Sing-along at Biden Inauguration
2021 inauguration
Our Vice President Is a Black Woman
fashion
Bernie's Inauguration Look Is Instantly Iconic
trump administration
Who Did Trump Pardon on His Last Day As President?
reading the signs
Good-bye to Trump's Patriotic Cosplay
biden inauguration
Trump Is the First President in 152 Years to Skip Successor's Inauguration