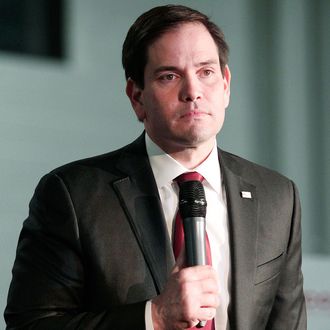 Winning.
Photo: Bill Pugliano/Getty Images
Marco Rubio may not be good at winning primary elections, but he's the all-time master of the expectations game. And since the "true winner" of the Republican nomination isn't determined by delegate count but by "news cycles won," the former Florida senator has this thing nearly locked up.
First, there was Rubio's triumph in Iowa, where he spun a third-place finish into a landslide victory. Then, by carefully sabotaging himself in New Hampshire, the senator set himself up for a second-place "win" in South Carolina. But Tuesday night in Nevada Rubio took his game to whole different level.
At first things didn't look so great for Marco — Donald Trump did beat him by 22 points in the state's caucus. But on Fox News Wednesday morning, Rubio revealed that drawing roughly half of Trump's support in Nevada was actually a come-from-behind win in the expectations game.
"Last time, Mitt Romney got over 50 percent, so Donald Trump actually underperformed [what] Mitt Romney did, not once but twice in this state," Rubio explained to Fox & Friends, referring to the 2008 and 2012 primary races.
Rubio is to spinning defeat as Steph Curry is to the three-pointer, and this was Marco's half-court shot.
Things you buy through our links may earn Vox Media a commission.