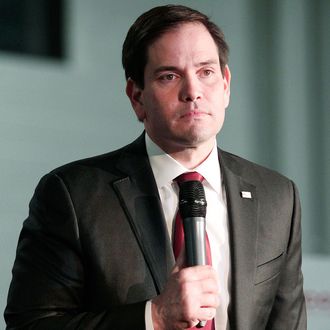 Winning.
Photo: Bill Pugliano/Getty Images
Marco Rubio may not be good at winning primary elections, but he's the all-time master of the expectations game. And since the "true winner" of the Republican nomination isn't determined by delegate count but by "news cycles won," the former Florida senator has this thing nearly locked up.
First, there was Rubio's triumph in Iowa, where he spun a third-place finish into a landslide victory. Then, by carefully sabotaging himself in New Hampshire, the senator set himself up for a second-place "win" in South Carolina. But Tuesday night in Nevada Rubio took his game to whole different level.
At first things didn't look so great for Marco — Donald Trump did beat him by 22 points in the state's caucus. But on Fox News Wednesday morning, Rubio revealed that drawing roughly half of Trump's support in Nevada was actually a come-from-behind win in the expectations game.
"Last time, Mitt Romney got over 50 percent, so Donald Trump actually underperformed [what] Mitt Romney did, not once but twice in this state," Rubio explained to Fox & Friends, referring to the 2008 and 2012 primary races.
Rubio is to spinning defeat as Steph Curry is to the three-pointer, and this was Marco's half-court shot.
THE FEED
2021 mayoral race
Garcia Is Taking Yang's Help, But Not Returning It
the economy
A World of High Wages and Cheap Burrito Bowls Is Possible
the final days
A Very Late Night With the Yangs
Pence's comeback continues to go well
juneteenth
America's Hollow Embrace of Juneteenth
missouri
St. Louis Gun Couple Plead Guilty to Misdemeanors for Threatening Protestors
the city politic
The Company Eric Adams Keeps
extremism
Andrew Clyde Challenges MTG for Title of Most Extremist Georgian in Congress
new york city
De Blasio Botches Juneteenth Promise to Municipal Workers
intelligencer chats
What the Resurgent Real-Estate Market Means for NYC
politics
What Republicans Mean When They Say 'Stacey Abrams'
juneteenth
Juneteenth Is Now a Federal Holiday
Did he think no one would remember?
… on June 19 of last year, [Bill de Blasio] made a solemn vow.
"Starting next year, Juneteenth will be an official city holiday and official New York City schools holiday," Mr. de Blasio said.
He said that every city employee and every student would have "an opportunity to reflect on the meaning of our history."
It was a momentous-seeming announcement for the largest city in the country and the nation's biggest school system, and headlines followed.
But one year later, even as President Biden is poised to make Juneteenth a national holiday for federal employees, Mr. de Blasio's efforts have yet to yield their promised result. On Tuesday, just days before Juneteenth, municipal employees learned that they would not actually be getting an extra paid day off to commemorate the holiday this year.
Rather, city workers will need to use their pre-existing paid time off — an unused vacation day, for example — to celebrate the holiday, according to three city officials and a union official briefed on the matter.
supreme court
Supreme Court Keeps Its Powder Dry on Religious Liberty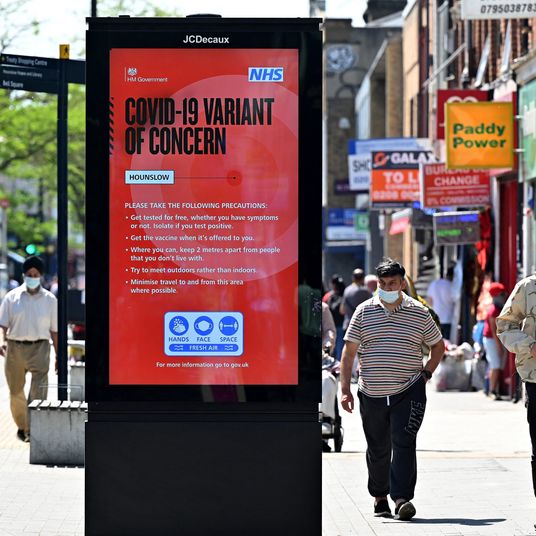 explainer
What We Know About the Dangerous COVID B.1.617.2 Delta Variant
the national interest
Why Republicans Could Never Tell Their Voters the Truth About Obamacare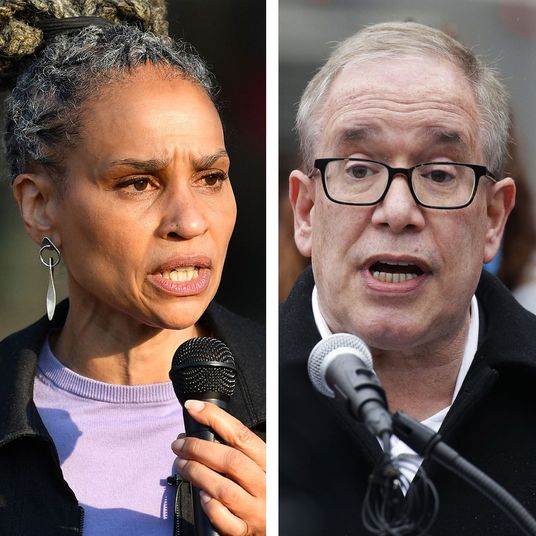 nyc mayoral race
All the Endorsements in the NYC Mayoral Race
covid-19
Why the Delta Variant Is Especially Dangerous for Black and Brown New Yorkers
the inside game
Biden's Stealth Strategy for Getting Big Things Done — Even With a Split Senate
politics
Florida Pol Threatens to Put 'Hit Squad' on Rival Congressional Candidate
BREAKING: The Supreme Court rejects the constitutional challenge to Obamacare in 7-2 opinion. The court tosses the lawsuit because the challengers do not have legal standing to sue.
https://t.co/meuQgPE50Z
—
@SCOTUSblog
politics
Can Joe Manchin of All People Trigger a Breakthrough on Voting Rights?
encounter
On the Campaign Trail With Andrew Giuliani
nyc mayoral race
Key Moments From the Final NYC Mayoral Debate
religion
How Critical Race Theory Overran the Southern Baptist Convention
2022 midterms
Could Democrats Defy History and Keep Congress in 2022?
celebrations
What Biden Has Planned for His July 4 'Independence' From COVID Party
politics
Biden and Putin Played Nice Today