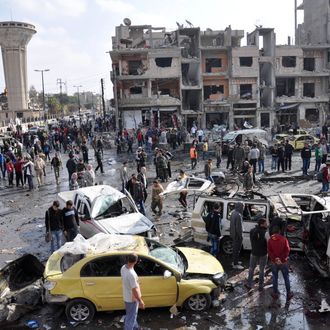 Aftermath of a double car bombing this weekend in Homs.
Photo: Stringer/AFP/Getty Images
U.S. Secretary of State John Kerry and his Russian counterpart, Sergei Lavrov, announced on Monday that they have reached a cease-fire agreement in Syria. The "cessation of hostilities" in a war — in which the Russians have backed President Bashar al-Assad and the United States has backed rebel forces trying to depose him — that has taken 250,000 lives and created Europe's worst-ever refugee crisis will begin on Saturday. The truce does not apply to fighting against the Islamic State or any group that has been deemed a terrorist organization. Vladimir Putin called it "a real step that can stop the bloodshed." 
Russia has been pummeling Syria's largest City, Aleppo, with air strikes in recent weeks, trying to push back the rebels. Lavrov had, earlier this month, called for a cease-fire to begin on March 1. The U.S. pushed for an earlier cessation, one that would not allow Russia and its Syrian allies to make more territorial gains in the northern and southern parts of the country. (Americans got their way, a week ahead of the Russians' preferred date.) The U.S. has slashed its $500 million covert support of Syrian rebels in the fight against Assad as it's become evident that the mission isn't having much effect.
Syria had a particularly bloody weekend, when multiple bombs in a southern district of Damascus killed at least 87 people on Sunday, and two car bombs killed at least 59 in Homs. A U.N. inquiry suggested on Monday that the conflict should be referred to the International Criminal Court in the Hague.