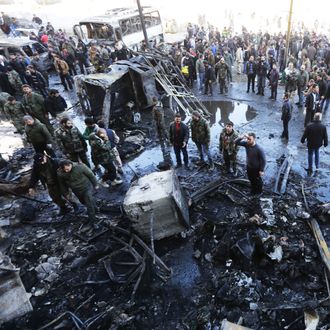 Photo: LOUAI BESHARA/AFP/Getty Images
Syrian government forces and their Russian backers are ramping up attacks on the country's rebel groups before a planned cessation of hostilities comes into effect on Saturday morning. Reuters reports that Russian bombers struck rebel-held parts of the northwest while the regime attacked its opponents in Daraya, a suburb of Damascus.
The ceasefire, which both the government and the main opposition alliance have agreed to, albeit with reservations, is intended to allow the delivery of badly needed humanitarian aid and create an environment more conducive to peace talks and a political solution to the conflict.
The regime of Bashar al-Assad and its allies will still be allowed to strike jihadists from ISIS and the Al Qaeda–affiliated Nusra Front, who are not included in the deal, but the opposition says the government will continue to bomb non-radical rebel groups and claim that anyone they bomb is an Al Qaeda militant.
For this reason, the rebel coalition has only committed to pausing hostilities for two weeks; the opposition just doesn't expect Damascus or Moscow to abide by it. These fears are not unfounded: Russia insists that its ongoing air campaign is targeting jihadists, but Russian bombs have also fallen on moderate rebels with American backing.
For his part, Assad has steadfastly maintained, since the start of the civil war in 2011, that his opponents are terrorists and that his army is fighting to save the country from radical Islamism. His reluctance to negotiate with the rebels is one reason why the conflict has dragged on for five years, killed more than 250,000 people, and displaced half the country's pre-war population of 22 million.
Citing the Syrian Observatory for Human Rights, Reuters adds that the regime dropped 30 barrel bombs on Daraya on Thursday. The military said it had no plans to stop fighting there, claiming that the rebels in Daraya are connected to the Nusra Front.
Over the past four months, a sustained Russian air campaign has broken a longstanding stalemate and given Assad momentum in recapturing territory previously held by the rebels.
Speaking after a meeting with his national-security team at the State Department on Thursday, President Obama gave a sober assessment of the ceasefire's chances, acknowledging that "there are plenty of reasons for skepticism" but insisting that a peaceful resolution to the conflict was the right thing for the United States to pursue.
The U.S., he added, will continue its involvement in the ongoing fight against ISIS, a fight in which he said, he was "confident we will prevail."