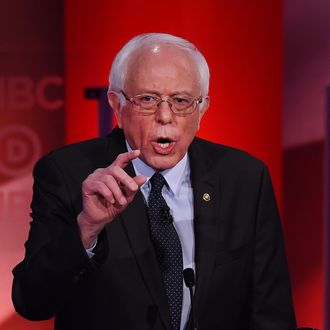 "I'll point to that!"
Photo: JEWEL SAMAD
Vermont senator Bernie Sanders is catching up with Democratic front-runner Hillary Clinton in the latest national polls of Democratic primary voters.
An NBC News/Wall Street Journal poll released on Thursday gives Clinton an 11-point lead over Sanders — 53 percent to 42 — but the same poll had her leading 59–34 just a month ago, Politico reports. A Fox News poll, meanwhile, puts Sanders slightly in the lead with 47 percent of Democratic voters against Clinton's 44.
As Philip Bump at the Washington Post observes, that's a significant outlier, as Sanders had not beaten Clinton in any previous national poll. Fox's polls had Clinton leading by 12 points last month as 22 points in December. The new poll shows Sanders making gains in every demographic.
With the latest data taken into account, Real Clear Politics' poll average now has Clinton leading by just four points; in CNN's poll of polls, Sanders trails by six.
Nonetheless, Clinton's lead remains quite strong in South Carolina, which holds its Democratic primary on February 27. A Bloomberg Politics poll gives her a 22-point lead in the state. South Carolina is a cornerstone of Clinton's "firewall" of upcoming primaries in which she hopes to regain momentum and quench the Berning fire.