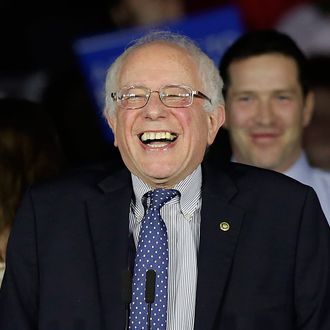 Yuge
.
Photo: Joshua Lott/Getty Images
Somewhere around midnight on Monday, as the nation's most helpless political junkies were refreshing their Twitter feeds, it became clear that the winner of Iowa would not be determined by the votes left to be counted in Polk County but by the journalists awaiting those returns.
As of Tuesday morning, Hillary Clinton appears to have eked out the narrowest victory in the history of the Iowa caucuses. But a 0.3 percent win means nothing unless the media says it does: Iowa divides its tiny number of delegates proportionally, so a victory of that size makes no significant difference in terms of delegate math. And as a reflection of popular will, it's even less telling — that percentage doesn't reflect raw vote totals, which will remain forever unknown. Since much of Sanders's support was concentrated in a few counties with colleges, it's entirely possible the Vermont senator actually turned out more supporters last night than Clinton did.
The fact is, not much is usually at stake in Iowa except for the media narrative that its results generate. Which isn't to say that a lot isn't at stake — if cable news decides that you made a weird noise after coming in third place, it can decide to put a hit on your campaign. While Donald Trump didn't emerge victorious Monday night, the fact that he came in second despite spending less than all of his rivals is a testament to the power of free media.
By producing an effective tie, Iowa Democrats gave journalists the opportunity to choose the narrative they wanted. And with 99 percent of pundits reporting, the media is now declaring Sanders the winner.
Take the two headlines CNN ran on its website Tuesday morning: "Hillary Clinton's tough night" and "Iowa gives Sanders momentum." Or this one on Politico: "How Iowa went wrong for Hillary Clinton." Or "How Sanders caught fire in Iowa and turned this into a real race," from the Washington Post. The Guardian, Salon, and The New Yorker all produced similar takes.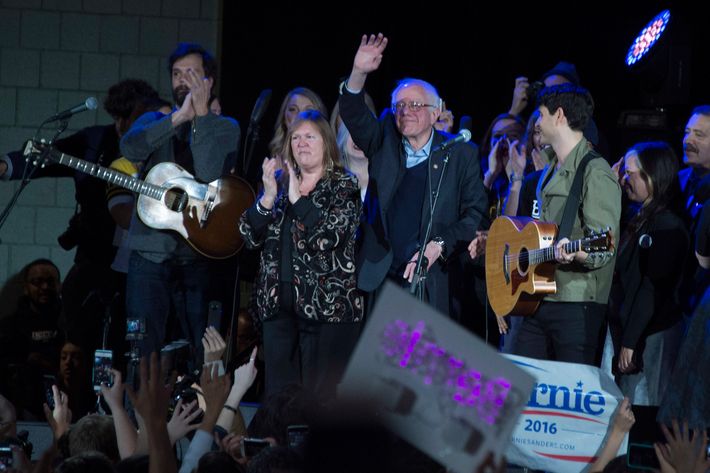 The New York Times' Upshot blog did write "How a Virtual Tie Helps Clinton," arguing that Iowa's demographics are unusually favorable for Sanders, so his failure to secure an outright victory should be read as a win for Clinton. But right beside that column, the Times ran a dispatch from the Clinton camp, where the mood was so dour, reporter Amy Chozick ended up casually declaring Clinton to be Iowa's loser:
"Instead, they now head to New Hampshire, where Mr. Sanders is heavily favored in the polls, and brace themselves for another loss [emphasis added] before they reach more hospitable states like Nevada and South Carolina."
There's a strong argument that, on paper, Monday night's narrow victory increased Clinton's chances of securing her party's nomination. Clinton has nearly unanimous support from the party's superdelegates, so Sanders would have needed a large victory to put himself on pace for the nomination. Clinton still has the overwhelming support of her party's Establishment and a double-digit lead in national polls. So long as Clinton didn't lose by 10 points in Iowa Monday night and/or accidentally confess to murdering Vince Foster in her quasi-victory speech, she was going to remain the favorite Tuesday morning.
But Sanders performed well enough to give the media a choice — and media bias tends to favor the more interesting narrative. As the Post's Ruth Marcus wrote, "Between Sanders and Clinton, tie goes to the underdog."
In the pundit class's defense, it is a damn good story. A septuagenarian socialist, who trailed by 40 points in Iowa at the race's start, takes on his party's handpicked candidate with absolutely zero Establishment support and builds a million Millennial movement that propels him to a virtual tie? Who doesn't want to see the next episode of this drama? Not a certain former New York senator, of course.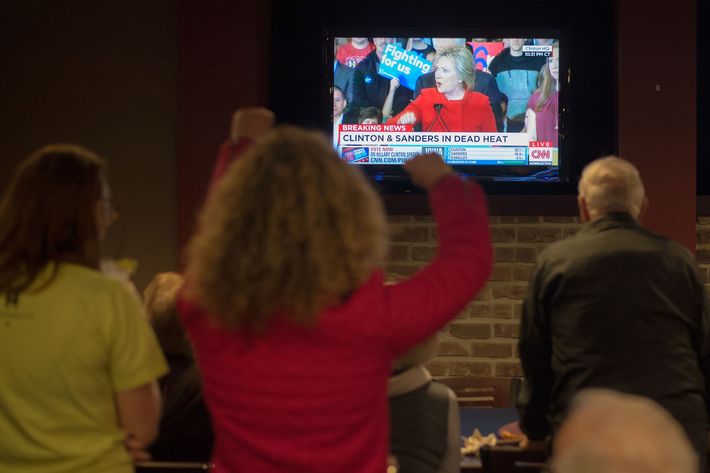 Sanders is incredibly well funded for an insurgent without a super-pac. He has a giant army of small-dollar donors who are far from being maxed out and committed volunteers across the country. He still doesn't have a great chance of actually winning, but all he needed to keep the political revolution rolling was to impress the media with his showing in Iowa. Today's front pages suggest he has done so.
Below you can view Tuesday morning's vote totals from the Democratic media primary:
Clinton Won
The Upshot: "But in the end, a virtual tie in Iowa is an acceptable, if not ideal, result for Mrs. Clinton and an ominous one for Mr. Sanders. He failed to win a state tailor made to his strengths."
FiveThirtyEight: "Hillary Clinton seems to have barely beaten Bernie Sanders in the closest Iowa Democratic caucus ever after holding a small lead in most Iowa polls before the caucuses. That means Iowa probably hasn't reshaped the Democratic race for president and Clinton remains the favorite."
Clinton Lost
The New York Times: "Instead, they now head to New Hampshire, where Mr. Sanders is heavily favored in the polls, and brace themselves for another loss before they reach more hospitable states like Nevada and South Carolina."
CNN: "Instead, even if she eeks out a win late tonight by a fraction of a percentage point, the Iowa caucuses looked like a defeat for the former Secretary of State. Once again, she has been knocked back on her heels by a challenger who her campaign did not take seriously until late in the race."
Politico: "Iowa wasn't just supposed to be a tentative first step in Clinton's inevitable march to the Democratic nomination, it was meant to be the cornerstone of a rebuilt political persona – and her national team was built from Iowa outward, with a foundational goal of winning here, and winning big."
Sanders Won
The Guardian: "The margin between Sanders and Clinton was razor thin all of Monday night – certainly thinner than anyone would have imagined possible last spring, when he was down by 42 points in a national poll. Coming in anywhere near close to Clinton in the Iowa caucus would've been a significant victory for Sanders; the near-tie showed the deep resonance of his message."
The New Yorker: "Not only has he pulled off a rags-to-riches story, he has done it on the basis of a message that is more radical than anything Presidential politics has seen in decades—a message that he repeats with such regularity and relentlessness that his stump speech has become familiar to many Americans."
Salon: "For Sanders, the results in Iowa cap a remarkable year. Whatever happens now, he has just performed a gravity-defying feat of political dexterity. He has enlisted a groundswell of grassroots support, and thoroughly defined the contours of the primary race, much more than Clinton has."
The Washington Post: "The closeness of the Democratic outcome offers concrete electoral proof of the power of Sanders's anti-establishment appeal. Between Sanders and Clinton, tie goes to the underdog. If you have any question about this, ask yourself: Which campaign was celebrating Monday night, and which was trying to figure out what went wrong?"
CNN: "Bernie Sanders finally got his political revolution. It wasn't an outright victory. But, for Sanders, who started this race as more stalking horse than viable candidate, fighting Hillary Clinton in a razor-thin contest in Iowa was more than enough."
The Democratic Party Won
Slate: "For anyone who followed the 2008 campaign, all of this sounds wearying. But if you are a Democrat who wants to win the White House for a third term—or a progressive who just wants to minimize the damage to your priorities—you should relish the upcoming combat. Why? Because a competitive primary will energize the Democratic Party and prime it for a tough and grueling general election."
The Democratic Party Lost
Vox: "No modern political party's establishment has ever tried as hard to package up a nomination and tie it off with a bow as the Democrats did for Clinton over the course of 2016. And it didn't work out very well. The result ought to serve as a wake-up call to a Democratic Party elite that's gotten a little smug and out of touch over the past few years."