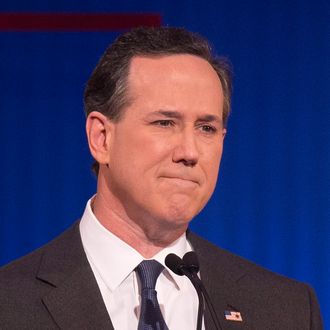 We hardly knew ye were running.
Photo: JIM WATSON
Will Marco Rubio's third place finish in Iowa make him the preferred candidate of Republicans seeking a candidate who isn't a maniac? Maybe, but for now he'll have to settle for the endorsement of a guy who's dropping out of the race because he's polling below one percent nationally. Wednesday, on Fox News' On the Record, Rick Santorum announced that he's suspending his campaign and urging his supporters to back Rubio. "I don't endorse lightly," he said, calling Rubio a "tremendously gifted young man" who understands the importance of family and has what it takes to handle the threat posed by ISIS.
After a town hall in New Hampshire on Wednesday night, Rubio said Santorum's support "means a lot" and he would like him to be "very active in our campaign."
The few people who were aware that Santorum was running — and actually thought he should be president — have a lot to think about.