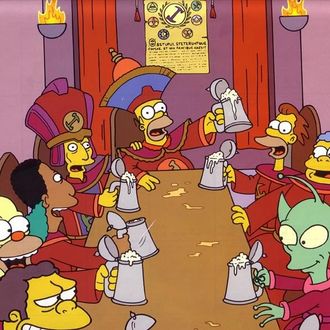 Who keeps gerrymandered districts on the maps? Who keeps the liberals under wraps? We do, we do!
Photo: Fox
As it turns out, the pillow found partially covering Antonin Scalia's face was one of the least weird things about his death at a luxury ranch in Texas on February 13. Cibolo Creek Ranch owner John Poindexter initially told the press that the Supreme Court justice was invited to the ranch with a sports group at the suggestion of a mutual friend. He would only identify the other guests as "very substantial business people," who are not involved in politics. "It was strictly a group of friends sympathetic to the justice's views," he told the L.A. Times.
It appears he omitted some interesting details. According to the Washington Post, the other 35 guests were "high-ranking members of an exclusive fraternity for hunters called the International Order of St. Hubertus, an Austrian society that dates back to the 1600s." It offers everything one could want in a high-powered secret society. Per the Post:
Members of the worldwide, male-only society wear dark-green robes emblazoned with a large cross and the motto "Deum Diligite Animalia Diligentes," which means "Honoring God by honoring His creatures," according to the group's website. Some hold titles, such as Grand Master, Prior and Knight Grand Officer. The Order's name is in honor of Hubert, the patron saint of hunters and fishermen.
Other important things to know about the society: It was founded in Bohemia in 1695 by Count Franz Anton von Sporck, its current Grand Master is "His Imperial Highness Istvan von Habsburg-Lothringen, Archduke of Austria," and several years ago members gathered at Cibolo Creek Ranch for a three-day hunting getaway that involved some members dressing in "traditional European shooting attire for the boxed bird shoot competition."
It's unclear if Scalia had an official tie to the group, and Poindexter — who previously offered up the detail about the justice being found with a pillow over his head — made sure to phrase that in the most suspicious way possible. "There is nothing I can add to your observation that among my many guests at Cibolo Creek Ranch over the years some members of the International Order of St. Hubertus have been numbered," he told the Post via email. "I am aware of no connection between that organization and Justice Scalia."